If you're a fashion fan, then you know New York Fashion Week (NYFW) is the place to stay on top of the latest trends. This year's event was fascinating, given the sheer volume of stunning looks from black designers. Here are 10 of the best NYFW 2023 looks by black designers that had us all talking!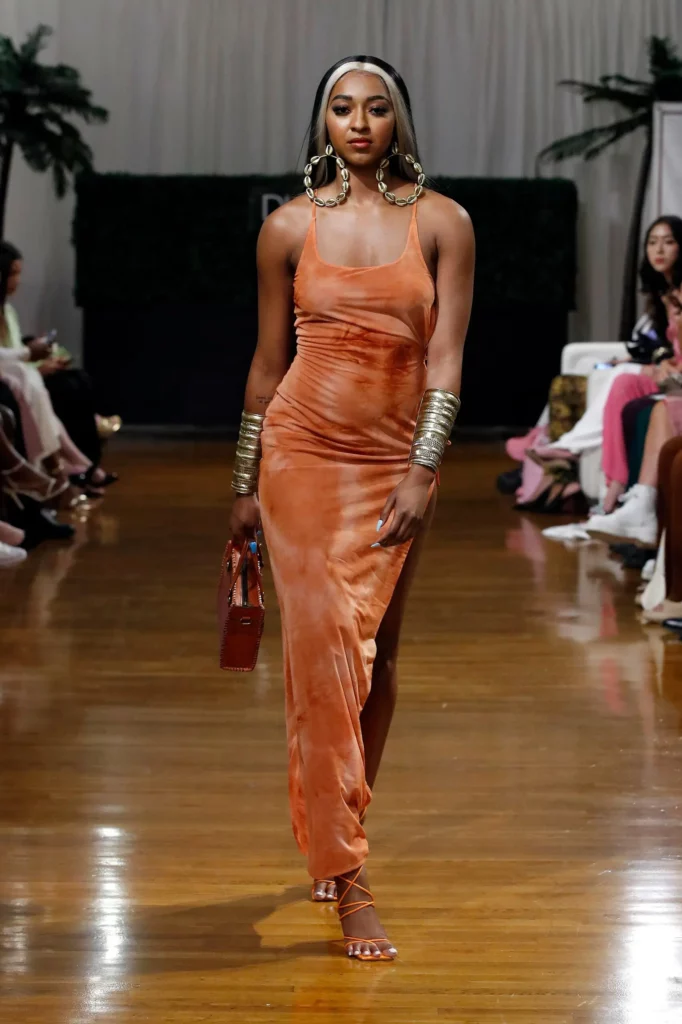 Dur Doux
Dur Doux's new Autumn/Winter 2023 collection takes inspiration from the French phrase "Toute L'Anne," which means "Holiday Year-Round." This season celebrates a marriage between fashion and travel by offering 25 designs that offer a balance of classic style and versatility to suit any occasion. The tangerine piece modeled above offers an exotic dye pattern in hues reminiscent of tropical vacations.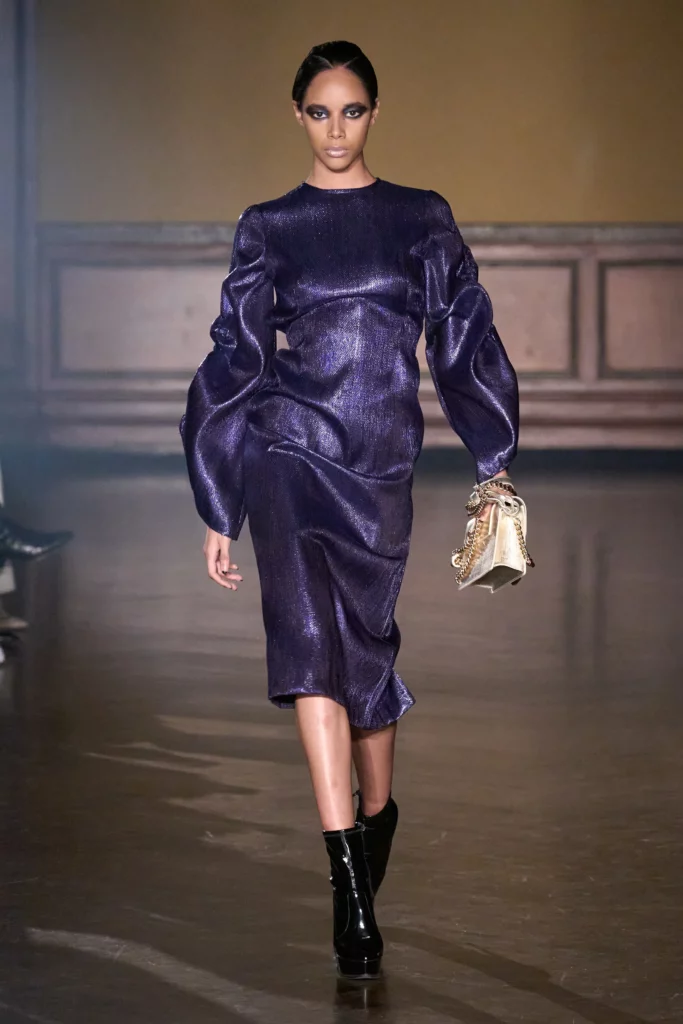 Frederick Anderson
After a decades-long career in fashion, Frederick Anderson challenges individuals to step into their desired persona with his fall 'Renaissance' collection. Lush layering and bold hues of purple radiates from the clothing line – an invitation for wearers to make a statement while embracing unlimited expression. With extra draping and playful silhouettes, this refreshingly brave collection is a testament to Anderson's FiT roots.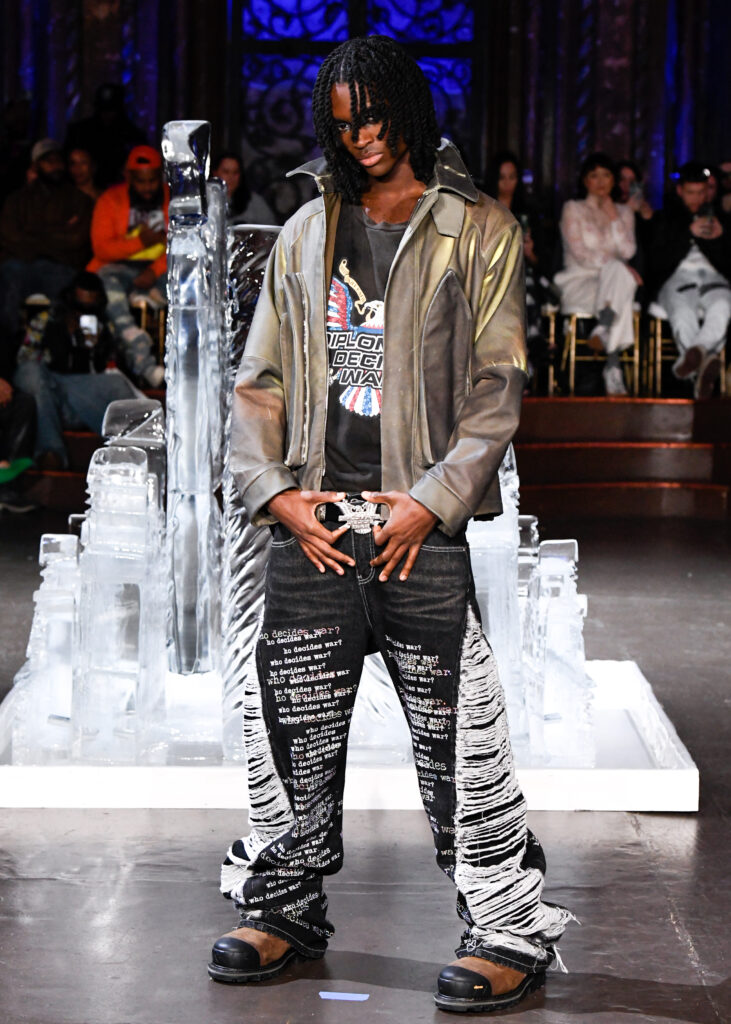 For its seventh collection, Who Decides War, designers Everard Best and Tela D'Amore sought to create a refined streetwear look representing the brand's well-established design codes. This included premium denim pieces juxtaposed with leather silhouettes adorned by their signature stained glass window motifs – bringing an elevated aesthetic to urban styling.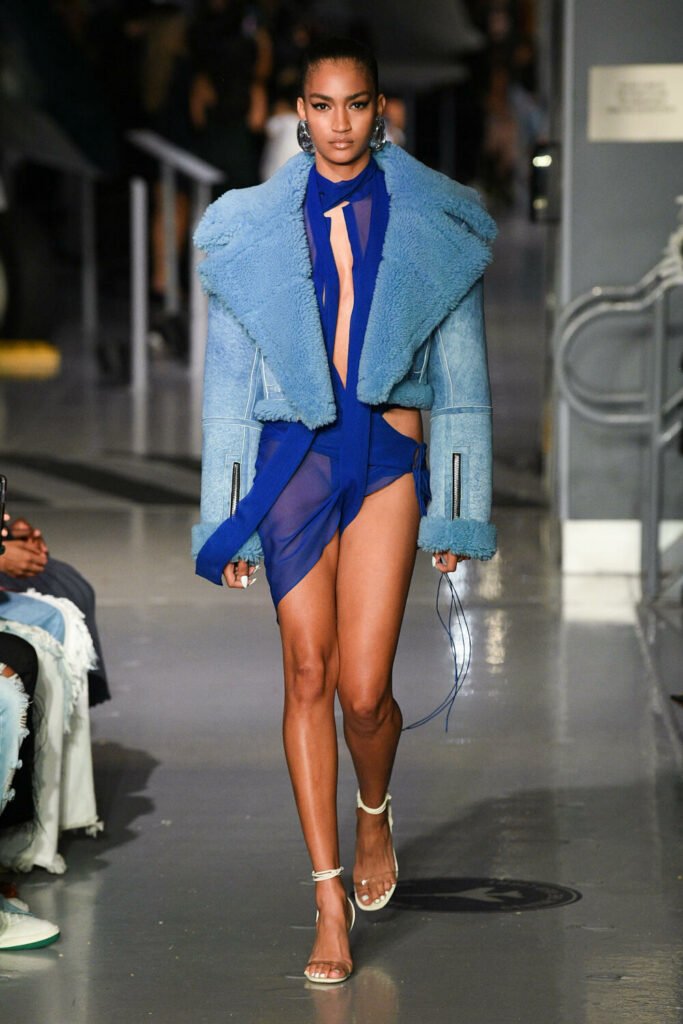 LaQuan Smith
Laquan Smith presented his collection for Spring/Summer 2023 in an immersive experience that showcased his signature bold and modern designs. His line featured dramatic silhouettes, bright colors, and intricate detailing. Standout pieces included a blue leather sheep fur over a voluminous cut-out dress.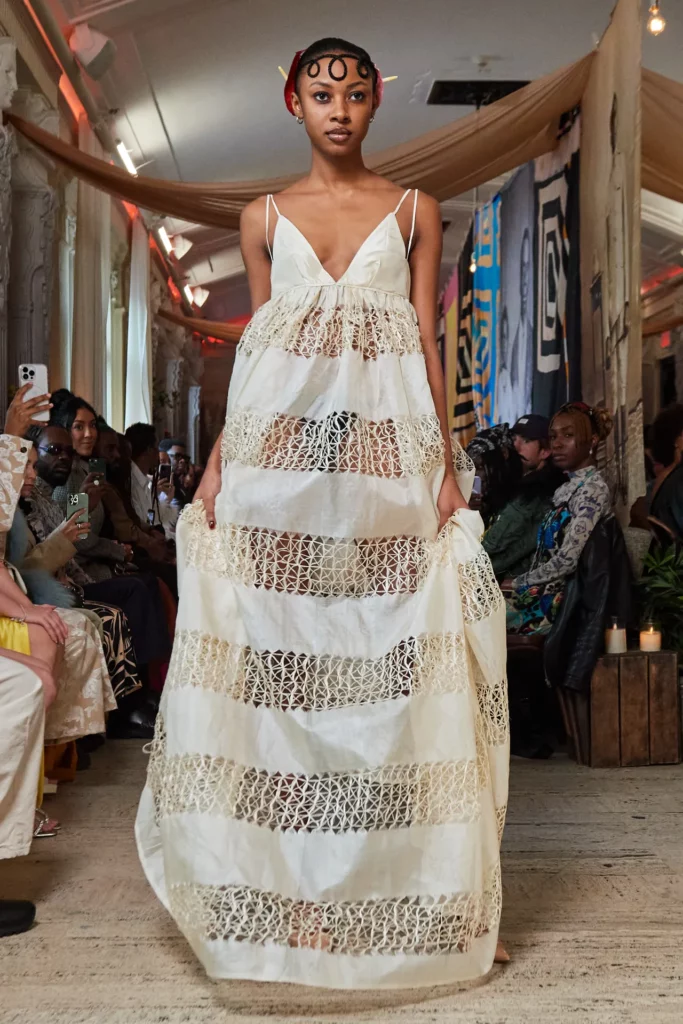 House of Aama
Drawing on centuries of African diasporic folklore, House of Aama's Fall/Winter 2023 collection was unveiled at New York Fashion Week. Mother-daughter duo Rebecca Henry and Akua Shabaka showcased their devotion to transcending time through an inspired interpretation of the tale 'Anansi The Spider' in garments that evoke various eras, including the '20s and '90s. In addition to creating pieces for mature audiences, this lauded label also provided youthful options, with its unique brand aesthetic becoming apparent throughout all designs presented.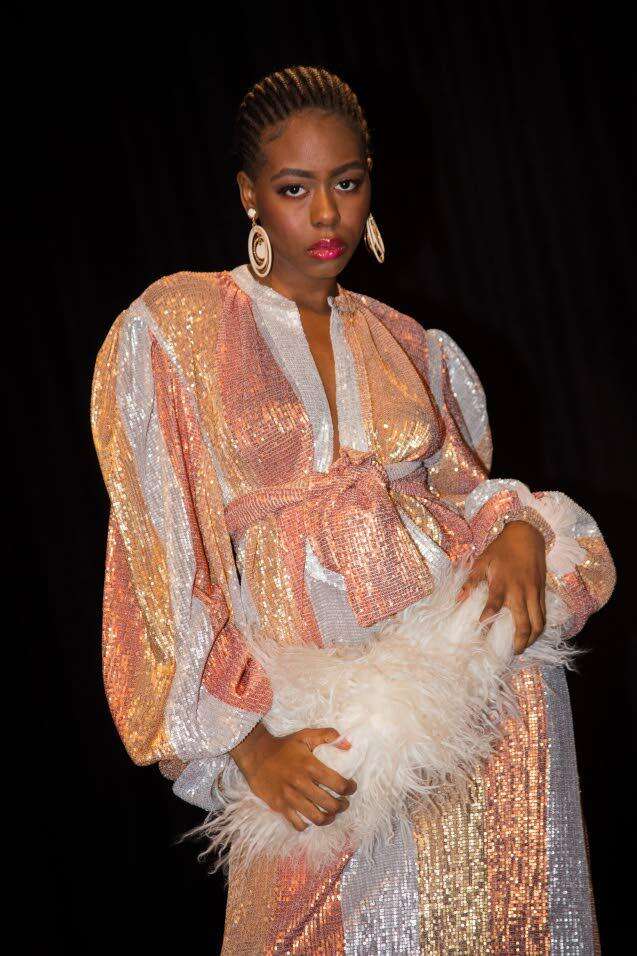 Junny
Designer Junny Ann Hibbert debuted an incredible collection that was inspired by her Jamaican heritage. The bright colors and bold patterns made for some stunning pieces that stood out on the runway. Her use of traditional fabrics and modern silhouettes created an exciting blend of cultures and styles.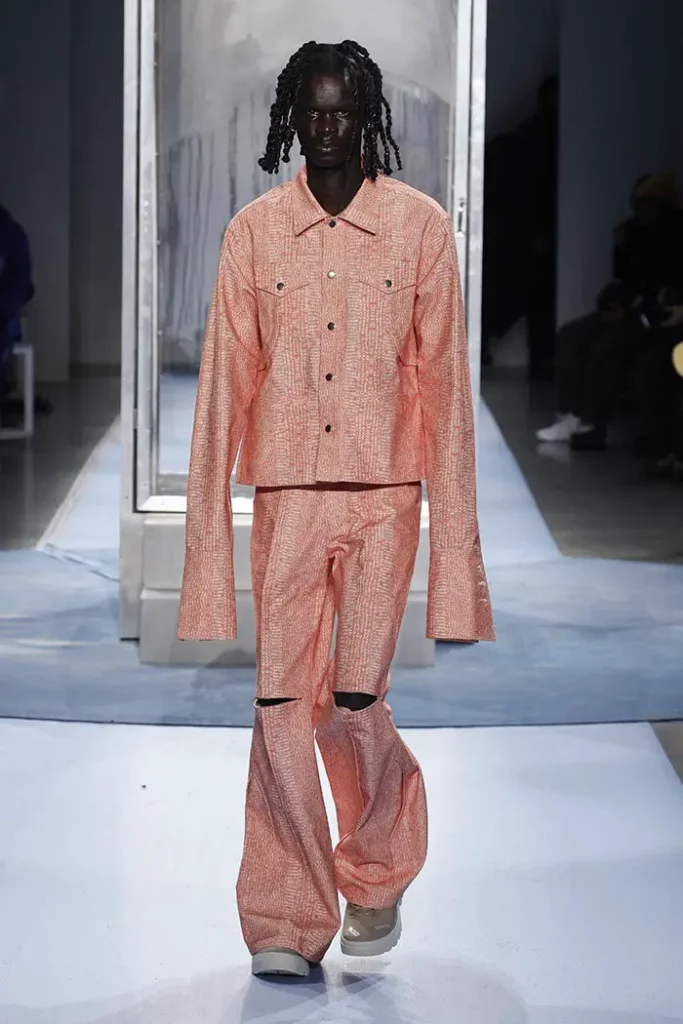 Head of State
One of the most talked-about collections was by designer Taofeek Abijako, who showcased his new line that paid homage to his Nigerian roots. His designs featured luxurious fabrics with intricate patterns and vivid colors. The attention to detail was exquisite, making each piece look like a work of art!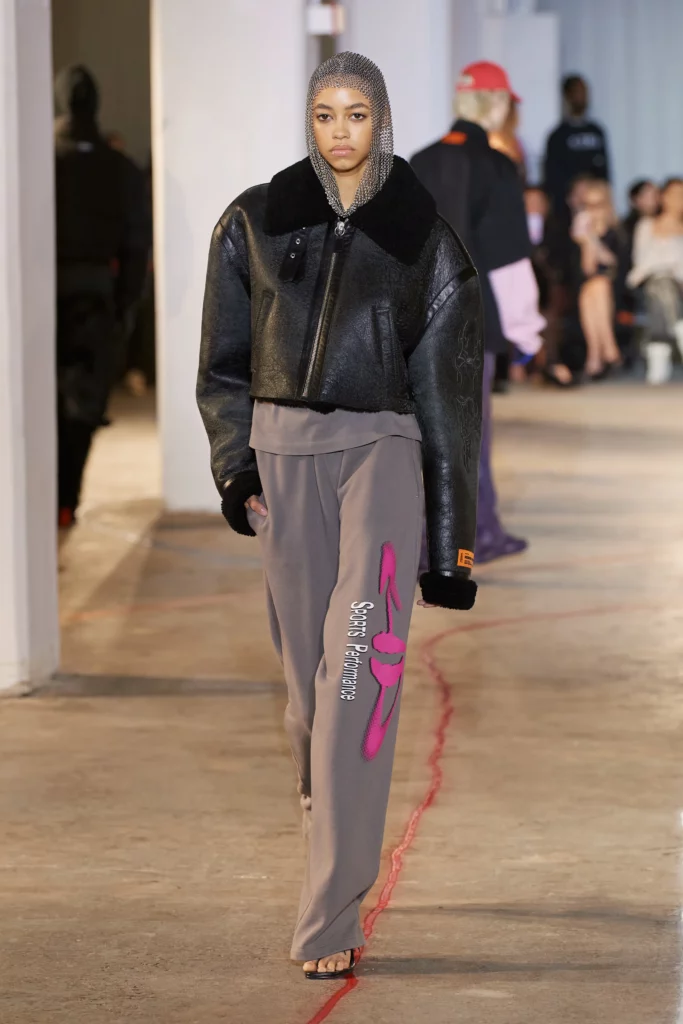 Heron Preston
With his new Fall collection, "Anything Goes," Heron Preston pushed the boundaries of fashion. His creative vision was on full display as he presented an eclectic mix of materials, including chainmail and barbed wire, alongside more traditional fabrics in a nod to urban rawness.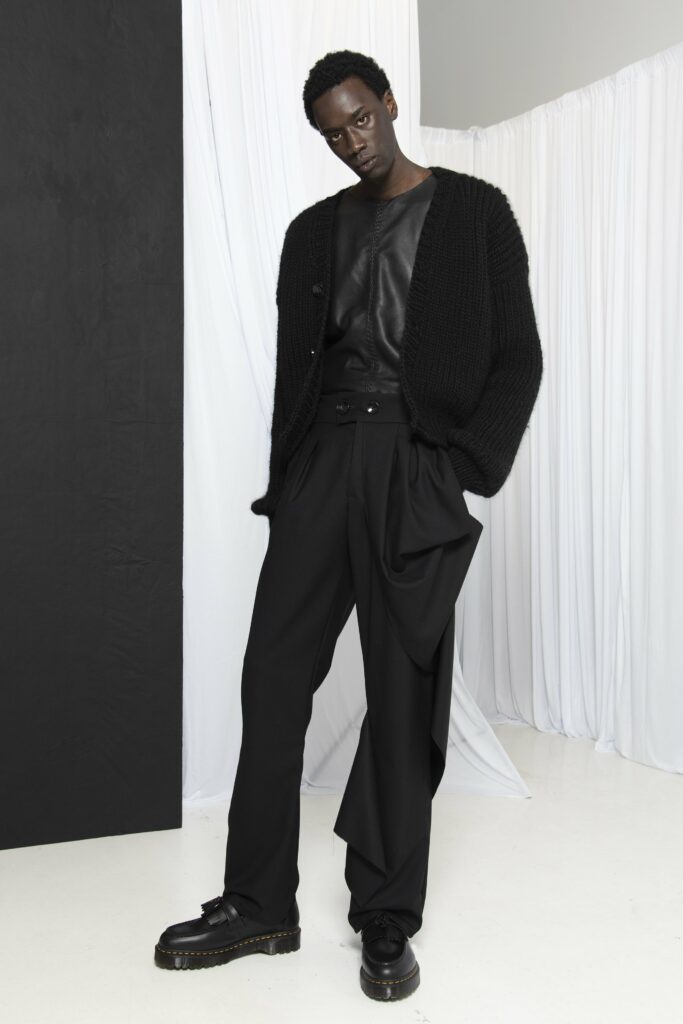 Kent Anthony
Kent Anthony presented a captivating collection at New York Fashion Week. His Fall/Winter 2023 line – "Negative Space II," fuses street style with sophisticated high fashion for an upscale look sure to turn heads! Classic black and white designs were complemented by jackets detailed with stunning cords.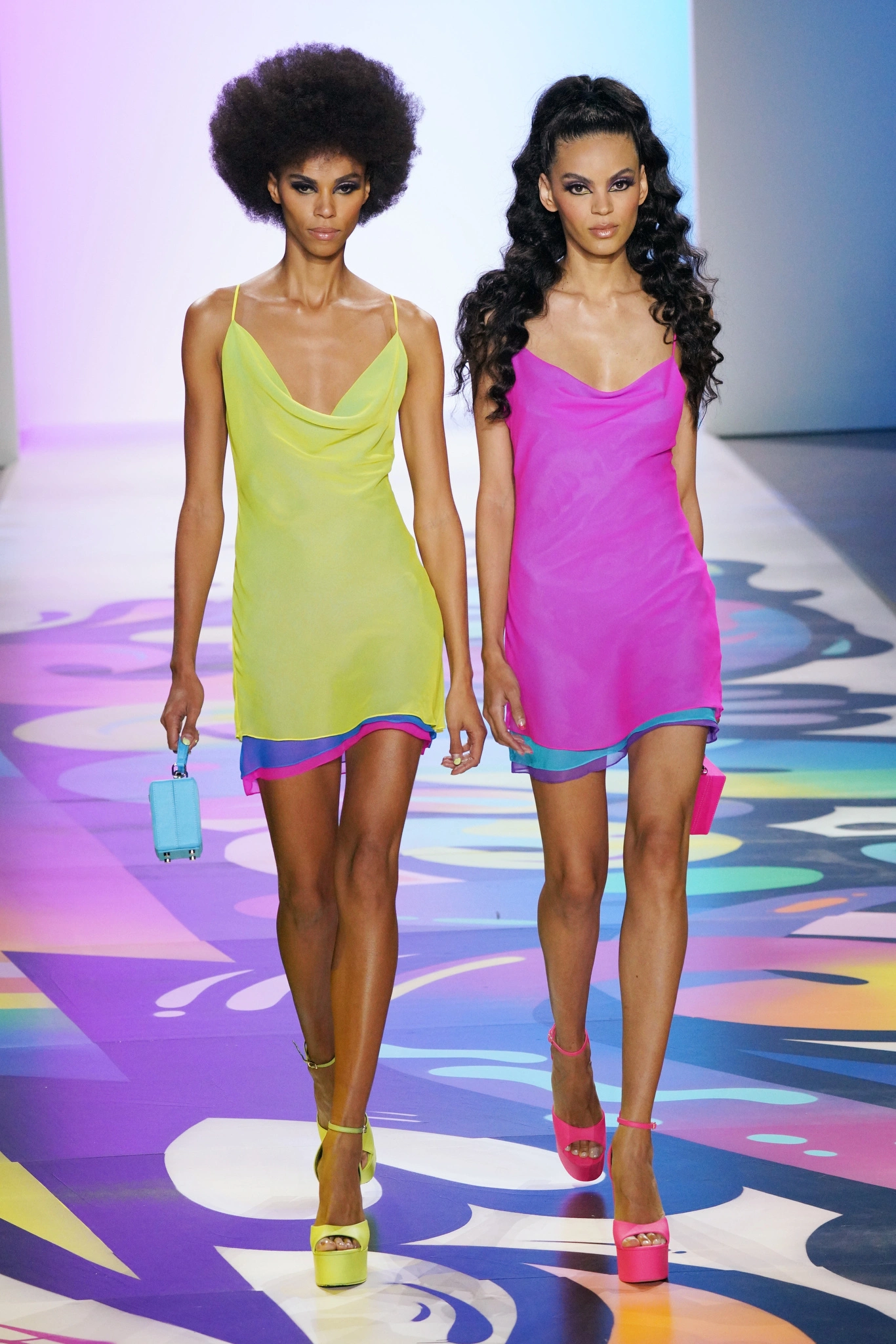 Sergio Hudson
Sergio Hudson transformed his New York Fashion Week runway into an ode to the '90s with vibrant, neon designs and original graffiti art. Taking cues from artist Jason Naylor's psychedelic murals, he sent models strutting down the colorful catwalk in voluminous mini-dress suits and bold hairstyles that would have made Fran Drescher proud! His latest collection was a spectacular tribute to the era, which resonated judging by the thumping beats throughout his show.
NYFW 2023 saw some amazing looks from black designers who pushed boundaries in design aesthetics and sustainability practices – setting the bar high for all upcoming shows this year! If you're looking for inspiration or want to keep up on what's hot in fashion right now – be sure to check out these amazing collections from these talented designers – your wardrobe will thank you later!

Create, Discover & Experience Events For The Culture At Eventnoire.
Follow us On Instagram @eventnoirehq, Follow us On Twitter @Eventnoire, Like us on Facebook