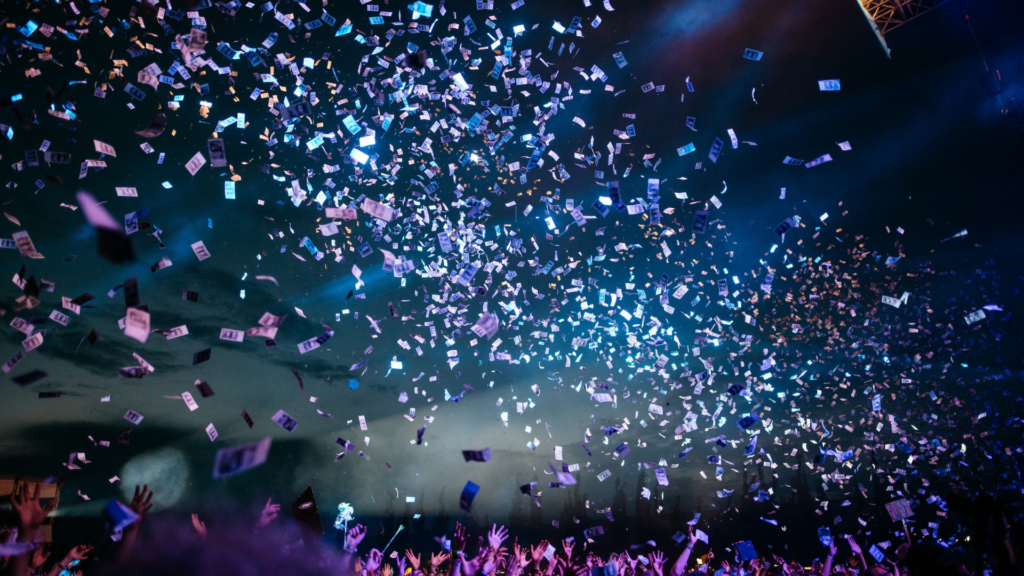 Selling out an event is every organizer's dream, but planning and trying to sell out an event requires the right marketing tactics. If you're new to event marketing or promoting your event has been more challenging, look at the best tools and tactics to help you go from on sale to sold out!
1. Use An Event Ticketing Platform
Ticketing platforms are an essential first step to event marketing because they allow you to reach many people if they have a section for users to discover events. Using an event ticketing platform or software can increase ticket sales and help you market your event simultaneously because everything is all in one place. Eventnoire is an excellent ticketing platform for your next event because it delivers faster payouts than other platforms and has tons of customizable reports for you to choose from.
Knowing how powerful social media and email are when marketing an event, some platforms allow you to integrate your event ticketing profile with social media or email to help get the work out. Those who purchase tickets can share their attendance with their followers. This enables you to get third-party promotions without paying for advertisements. It also saves you the time you would spend manually registering attendees, one by one, reducing the stress of event planning and its long ticketing queues.
Lastly, the data collection feature of ticketing platforms like Eventnoire will help you gather information so you can plan events better.
2. Create An Event Page On A Social Media Platform
One way to promote your event is to create a profile, page, or post on social media. If it's on Facebook, you can include essential details about the event, post flyers, add videos, and update attendees. This page should also link to the event's website or ticketing platform. If it's on Instagram, you can create a pinned post or a profile for interested event guests.
Also, you can create hashtags for your event, add contact details, and even set up an event FAQ page or multiple post series to answer frequently asked questions from attendees. These tactics will help those with inquiries get the answer they need to buy a ticket to your event.
Tip: Don't forget to post countdowns on your social media pages that excite your followers for the event. You are selling an experience, even when marketing.
3. Make It Shareable
We've discussed creating pages for your event on social media and how you can leverage social media marketing to take your event to the next level. One way to ensure your event gets more of the right traffic is to have a public event page, not password-protected. Accessibility to your event is crucial for marketing and getting people to engage with it. Also, it would help if you prepared it to do transactions for your event tickets, whether it links to a third-party service or is a built-in app.
Public posts make it easy for people to share your posts on social media. This can help garner interest that sells tickets. Each platform has a different audience and could require a different marketing strategy. To make it easy for everyone to share your event, ensure your social media pages are public and there is a call to action encouraging them to forward the info.
4. Go Live On Social Media
Technology has brought us so far that various online platforms connect us to people around the globe. The power and influence of social media on your event cannot be minimized. From Instagram and Facebook to even TikTok and Pinterest, these platforms can be used to promote your event.
We see people going live every other day to discuss various things, so why can't you?! Don't be shy, go live! Talk about your event details and what makes it a must-attend. The best platforms to go live on our Instagram and TikTok, as they have a higher usage by people online. It's as simple as setting up your phone's camera, clicking the live button, and sharing all details about your event. You may have to go live on social media more than once, on different platforms, to get people's attention. However, attention is worth millions.
5. Run An Early Bird Ticket Special
You know that feeling of getting something before anyone else does? It gives exclusivity. It makes an attendee feel special and included. A great start to creating the event experience before the event happens. Early ticket sales or pre-orders are event marketing tactics that many don't always think can make a difference, but it does!
Getting a ticket early is a premium event experience that sets the tone for what an attendee should be able to expect when arriving at your event. Running an early bird ticket special is one way to get everyone interested in participating in your event and selling out before the next tier of tickets becomes available. It's an energy and confidence booster but necessary to gauge different marketing you may need to try as you continue promoting.
Tip: When running a special, offer limited tickets to the fastest fingers. You could organize a special that runs for a few days, where the fastest fingers get to purchase the first 20 tickets at a discounted price.
6. Sign Up Event Ambassadors And Volunteers
Instead of forcing family and friends to promote your event or buy tickets, make them feel special by welcoming them to be ambassadors or volunteers. Having them as both will help to advance to a broader audience and increase ticket sales.
Influencers have an array of followers and supporters who trust them. Look to partner or collaborate with influencers that have a voice in your industry and are super active with their followers. To get people excited about being an event ambassador, try these ideas:
Provide 1-2 complimentary event tickets. VIP tickets are always better.
Throw in branded swag and merchandise only an event ambassador can wear or use.
Design a custom flyer or social media photo frame so they can share the event flyer with their picture and hashtag attached.
Encourage additional event incentives if they create content to promote before, during, or after the event.
7. Collaborate With An Event Promoter
When putting your event on the map, an industry expert is always the way to go. When planning an event, you could always use an extra hand to spice up your event marketing. Connecting with a local or virtual event promoter could get more eyes on your event because they know how the industry works. Eventnoire makes it easy with its built-in promoter network accessible to new and existing event organizers!
With their readily available network and expertise, they could post the flyer on their page or email their subscribers a discount code to help sell tickets. Also, event promoters are great if you need some event logistical help. From choosing a venue and figuring out which vendors to use to setting up photo-worthy areas, these people are well-versed in the nitty-gritty of the game. They have worked with many people and can recommend the best. An event promoter partnership gives your event more credibility, organization, and, hopefully, a sold-out crowd.
8. Partner With An Organization
Your event has a niche, and there are organizations with members that fit the target audience. Choosing an organization with members aligning with the event is one of the best ways to market your event and sell out. When searching for what kind of organization to work with, consider your event's values, mission, and purpose. With that information in mind, you can find organizations with members most likely to engage, share, and attend your next event.
Partnering with an organization could mean sponsorship for your event, which saves your costs on certain things. If an organization is interested in partnering with you, it could also raise the value of your brand and open doors to future opportunities.
9. Get Help From Sponsors
Events can be challenging, and we're not just talking about planning and preparations, but funding a good experience requires capital. When you are planning an event, you know that a lot of payments need to be made. You'll make a venue deposit, hire a team to decorate it and work with a caterer for food and maybe drinks. Usually, it is best to get help from sponsors who share a similar vision with you.
When looking for companies and brands to sponsor your event, consider seeking people who align with and understand your vision for your event. The sponsor should also have much to gain from having access and exposure to the attendees. Sponsorships can save you a bit of money in the long run. Remember that you can always bargain for other goods or services if money is unavailable from a potential sponsor. Brand recognition could be more helpful and powerful to your event.
10. Do A Social Media Challenge
Remember the Silhouette challenge? And the Don't Rush challenge. That was one of our favorites. It's hard to forget an excellent social media challenge, especially if it brings you joy and fun while putting it together. These days there are a lot of trends that have turned into challenges on platforms like Tiktok and Instagram. Throwing your event into the mix of a challenge or creating your own can mean more views, likes, and engagements — possibly making more ticket sales.
Doing a social media challenge right can lend coolness and popularity to your event. You can create a challenge for your event that includes a dance or a transition, then choose a hashtag so the challenge can be found easily. Your event could go viral by posting a video of yourself or your close friends participating in this challenge and tagging others to get involved. This tactic adds you to the search pages and makes it easier to get people talking about your event.
11. Offer A VIP Ticket Experience
Everyone wants to feel like their experience was hand-picked just for them: something custom that feels luxurious and leaves you wanting more — or even to come back next time. Curating a VIP experience can do just that.
Consider offering a VIP ticket with personalized arrival and check-in, gift bags, private seating, premium refreshments, and other complimentary items. Your VIP tickets should be limited because crowding up the excellent spot will remove the essence of feeling important to your VIP members. Also, your VIP tickets should be sold more than the regular ones because it allows you to cater to a group of people who want a more luxurious experience at your event. Be sure to create a unique ambiance because attendees love showing off a good possibility.
12. Promote The Event Locally
We know they say the interwebs are the best way to market something quickly; however, there is value in going beyond social media. Even if your event is virtual, you can spread the word by dropping flyers at offices, local bars, and coffee shops. This gives people who need to learn about your online presence or who are not on social media info about your event. People may not have a social media profile, but they usually leave the house.
Coworking spaces, parking lots, and lounges are great spots to promote your event. While parking or unwinding at their favorite cafe, they could see your event info and look it up to learn more. They may even take a picture and share it with a friend. All publicity is good; to have a stellar event, you need to maximize all our tools. From word of mouth to flyers, everything will come in handy.
13. Do A Contest Or Giveaway
Everyone loves to experience the feeling of winning something. An event ticket giveaway via social media or an email list will get the word out quickly. Event contests and ticket giveaways get people in the spirit of competition, which can be fun. Still, you must ensure the giveaways and prizes you arrange are relevant to your audience.
Try a raffle contest on the social media platform of your choice, where people comment with the first thing that comes to their mind about your brand or event. You could go live to do the raffle, and the winner will get two free tickets to your event or even a VIP ticket if you plan on having different types of tickets and sets. Good old competition or trivia always spices event marketing up.
Tip: If your website is hosted or published through platforms like WordPress, you could use their plugins that allow for giveaways and contests.
14. Start An Email Marketing Campaign
Word on the street is email drip campaigns can boost your sales by up to 20%. If you already have an email list, you could use this to your advantage by creating newsletters that strictly market your event.
These emails you send out should include new information at different stages of marketing to let your community know what to expect and how to prepare for the event. To reach your ticket buyers, you could use in-house email marketing services on ticketing platforms like Eventnoire or Ticketleap. You could also try email marketing sites like Mailchimp or Constant Contact to deliver emails about your event to a larger group of people in your database. Please encourage them to forward the email or share the event with friends.
15. Encourage Vendors To Promote The Event
Think of your event as an ecosystem where everything and everyone can be of help to each other. Cross-promotion is a great way to market your event to the general public, and collaborating with your event vendors can get you more attention.
Vendors work with many brands, companies, and people, so they have an extensive network. Engaging them in promoting your event as they contract with you is a win-win for both parties. Their products or services will be on display at your event, and what better way for them to make sales than promote an event they contributed to? With this tactic, not only do more people come to engage with vendors, but more people could buy tickets to get into your event.
Before you cross-promote with a vendor, ensure they have a good rapport with previous clients and customers. Ask for references and check if they have previously promoted other events on social media, so you know what to expect.
Sell out your next event on Eventnoire!
Marketing an event is a before, during, and after strategy. Your attendees will be documenting their experience, and it ultimately becomes footage for promoting your next event. And when planning an event, you must check all possible marketing boxes.
If you've got an event coming up and are eager to sell out, check out Eventnoire. Our event ticketing platform can help you promote your next event and reach the desired audience. Eventnoire is the premier platform where Black culture and events intersect — connecting attendees and event organizers to the Black community. Sign up to create your first event today.

Follow us On Instagram @eventnoirehq, Follow us On Twitter @Eventnoire, Like us on Facebook
Create, Discover & Experience Events For The Culture At Eventnoire.