Attending a conference doesn't always have to be boring keynotes or ongoing breakout sessions. It's a fun and introspective way to get the coaching and professional development you need for a career boost. As a Black professional, if you can establish yourself as a thought leader and expert in your field, you become more valuable in the workplace and sought after within the industry. Attending conferences that esteem black professionals is an excellent start to making that happen.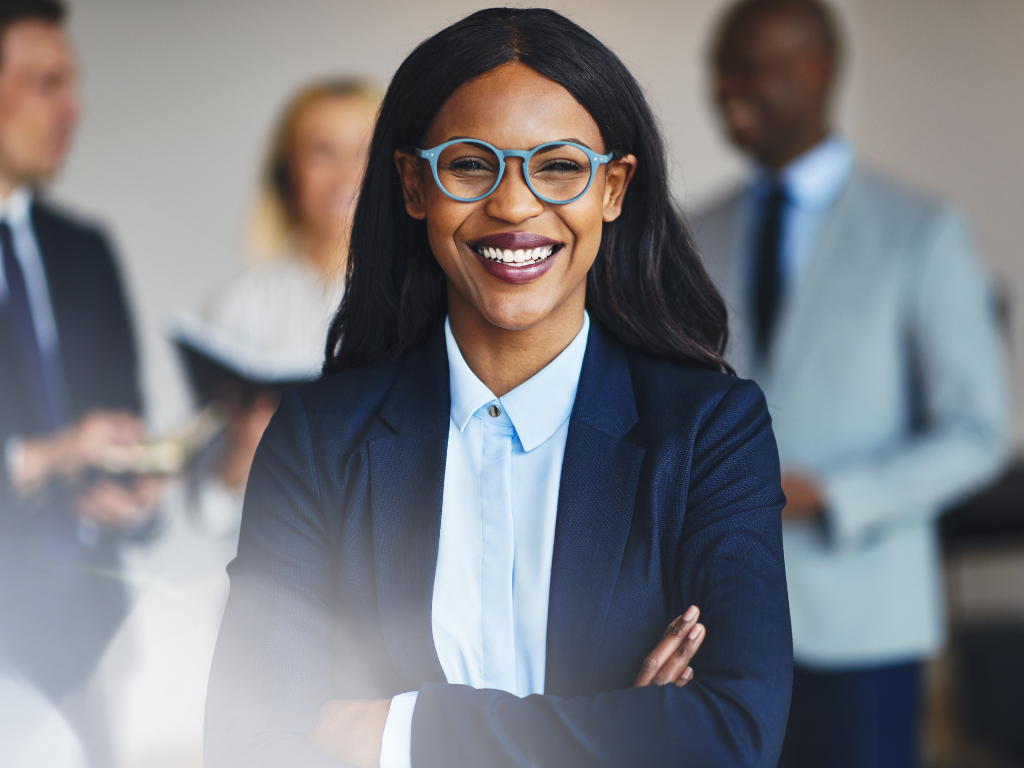 Which Black conference should you attend?
When you want to choose the Black conference that's best for you, you should think about where you are in your career and where you're headed. If you are transitioning into a new role or field, you may want to choose a Black conference that leans towards that specific industry. Also, choosing a conference that aligns with that industry or the position you're interested in fulfilling will help you start meeting the major players and understanding the lingo.

For example, if you're a seasoned educator looking to move into a non-technical role in an ed-tech startup, you should attend a Black tech conference like the Black in Tech Conference or the HireBlack Summit. Both of these events feature a job fair so you can meet recruiters and breakout sessions to learn more about the field you're interested in.
You should also consider what goals and purpose you have for attending. Attending a conference is ok if you're just interested in meeting new people and learning a few new things. Black conferences are great spaces to meet professionals that look like you, have similar careers, and love to have a good time.
Choosing which Black conference you will attend doesn't have to be complicated. We're sharing the top Black conferences for professionals to attend across various categories and locations. Each entry includes the last city and state the meeting was held in and what type of Black professional we recommend attending, so you get the best bang for your buck!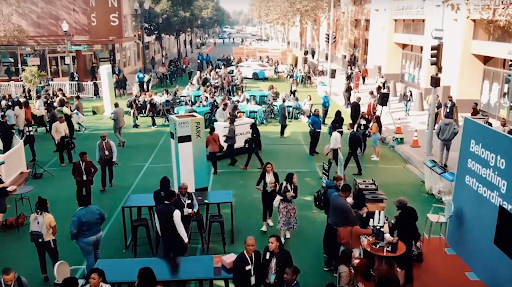 This multi-day conference brings together all things Black and tech. During the fall season, Afrotech takes over Austin, Texas, for Black tech professionals to network, learn, and innovate their businesses. At the conference, there are various sessions for attendees to meet recruiters, develop new skills, and network with panelists.
Best for: Black startup founders, seasoned Black professionals in tech, Venture capitalists, and angel investors
Tip: Purchase an all-access pass for the opportunity to see live musical performances after a busy day of networking.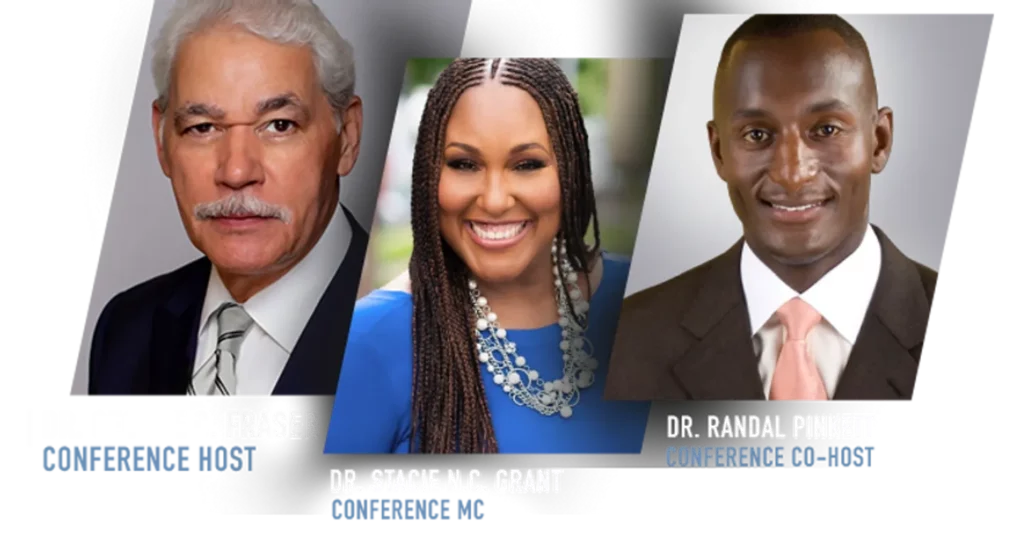 2. PNC Power Networking Conference
PNC is the #1 Black Business conference in the world! For twenty one years the Power Networking Conference (PNC) has been the home of black entrepreneurs looking to connect, grow and prosper. Forbes voted it as one of the top five conferences in the world for entrepreneurs. This dynamic and impactful conference prides itself on a unique philosophy of networking and building a financial legacy. PNC returns Aug 2, 2023 to Aug 5, 2023 in Houston Texas. Early Bird Registration is available now at Eventnoire.com
Best For: Black entrepreneurs , Black investors, Black founders, Black professionals
3. Blacks in Technology Conference
The Blacks in Technology Conference (BITC) is a newer annual event for Black tech professionals and general tech enthusiasts. Going into its 5th year, BITC aims to create opportunities in tech for generations to come through networking, skill-building, and career advancement.
Best for: Black professionals in tech, tech community advocates and recruiters.
Tip: Have snacks on deck because the food at the Black conference's venue can get pricey and busy while trying to stay fueled during the day.
4. Sistas in Sales Annual Conference
Sistas in Sales is the premier annual event for Black women in sales across any industry. The economy and stock market indicate how sales for certain fields will trend. This conference covers the latest sales strategies, networking with other Black salespeople, and new career insights to develop negotiation skills.
Best for: Women of color in sales, Black branding executives, Black tech sales specialists, and Black sales executives.
Tip: The activations from corporate sponsors at this conference focus on self-care and personal enrichment, not just sales.
5. National Black MBA Annual Conference
Black professionals with MBAs have an organization and annual event to celebrate this academic success and camaraderie. You'll need to join the National Black MBA Association to attend their annual conference; however, you'll receive an affordable admission price and an extensive network of Black MBA students, Black business owners, and corporate professionals to connect with in person. Even if you are a Black professional with an MBA but not working directly in business, you should still plan to join and attend. There are a variety of workshops at the conference and throughout the year where you can meet peers and experts in your field.
Best for: Black professionals with an MBA, Black college students with any major.
The ADCOLOR conference celebrates diversity and inclusion in advertising, marketing, and media. The sessions, panel discussions, and overall experience showcase ongoing progress in marketing as consumers' worldview continues to shift while promoting inclusion amongst the advertising workforce.
Best for: Black advertising professionals, Black content marketers, and DEI professionals.
Tip: The awards show is a must-attend at the conference and honors advertising executives and the work of professionals in creative industries.
7. National Association of Black Journalists Convention 
The National Association of Black Journalists (NABJ) annually hosts an annual, multi-day conference for Black journalists and media professionals worldwide. The conference is a centering space for journalism education, career development, networking, and media innovation. Attendees will have a chance to hone in on their craft during workshops and meet with recruiters, leaders, innovators, and influencers across a variety of career categories, including — journalism, media, technology, business, government, community service, health, arts, entertainment, academia, and more.
Best for: Black authors, Black professionals in media, public relations, and journalism.
Tip: The sports task force party is a must-attend event every year; however, you should stay at the NABJ author's showcase and bookstore because you could meet your favorite writers or hear them speak.
8. Black Data Processing Association Convention
Even though it has been 44 years, the number of Black professionals in STEM is still growing. The Black Data Processing Association (BDPA) Convention is an annual event for Black professionals in information technology specifically. The sessions are highly immersive and transformative, covering an array of topics in STEM and digital technology.
Best for: Black IT professionals, Black professionals in STEM, Black students in tech.
Tip: This is a great conference for Black students in STEM to attend for networking purposes, showcasing their work, and getting that first job after graduation.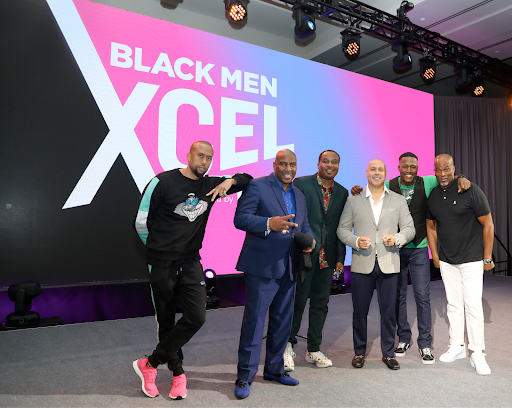 Hailed as "the number one conference celebrating the excellence of Black Men," Black Enterprise's Black Men XCEL gathering that rewards and empowers Black men in business, leadership, and personal growth. There's always an opportunity to improve, refine, and elevate the lives and careers of Black men — this event is where that happens.
Best for: Black male professionals and students at the level of their career and life, from interns and entry-level management to C-suite executives.
Tip: The XCEL Awards is where things get interesting! Black Enterprise takes the time to recognize the excellence and leadership of Black men in areas ranging from business and technology to sports and the arts.
The NAACP represents the Black community nationwide, and the community is powerful. The NAACP National Convention comes together annually to encourage NAACP members and supporters in their ongoing advocacy work. Throughout the convention, there will be breakout sessions, keynote speeches, and panel discussions surrounding advancing civil rights and social justice in the Black community.
Best for: Black community leaders, Black social justice advocates, Black political figures, and Black media and press professionals.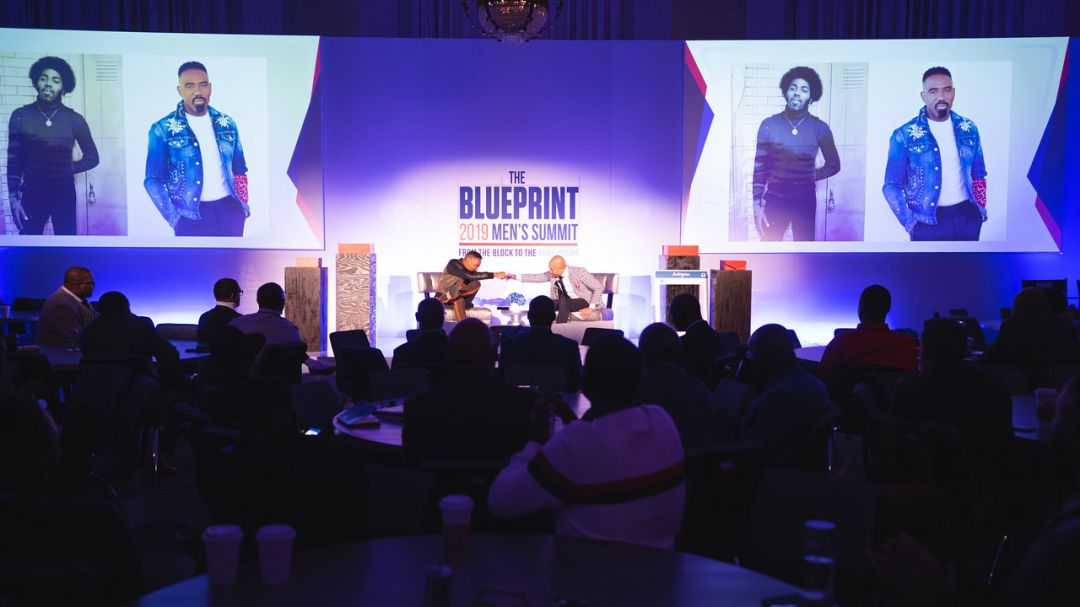 11. The Blueprint Men's Summit
The Blueprint Men's Summit is the #1 Empowerment Conference for Black Men in the Country! President of Media Sales at BET Networks, Louis Carr, created the empowerment series in 2017 for men to share their journey and learn to develop solutions to improve themselves, their families, and their communities. Throughout the summit are panel discussions featuring notable figures in business and entertainment and abundant themed activations. 2022 featured Master P, Earn Your Leisure, and Damon Dash as keynote speakers.
Best for: Black Men from walks of all life, community leaders, Black media, and young professionals.
12. Black Professionals Annual Summit
The Black Professionals Summit is an annual event for Black professionals in the United States from different industries to learn and network. Last year's headlining keynote speaker was Pinky Cole, the Founder, and CEO of Slutty Vegan, so you know they are on trend with helping you map out your career and entrepreneurial dreams.
Best for: Black entrepreneurs, Black professionals under 50.
13. MogulCon
Hosted by the One Million Dreams Foundation for Black Women and Girls, MogulCon is the premier conference for Black women entrepreneurs. From day one of the conferences, entrepreneurs can get first-hand knowledge about government contracting for their businesses, small business loans, brand collaborations, and intimate dinners with other attendees and speakers.
Best for: Black female business owners, any business size.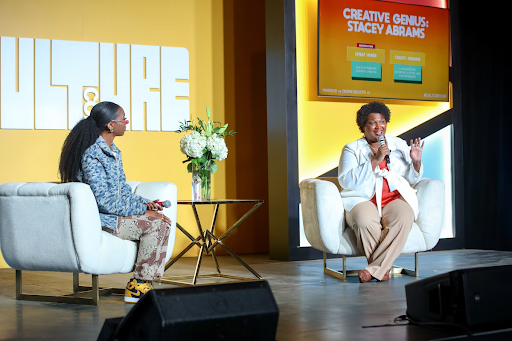 14. CultureCon
The Creative Collective, the leading destination for young Black creatives and professionals, powers CultureCon. The conference celebrates Black and Brown culture and creativity through panel discussions and performances with popular creators, trending social media stars, and performances focused on music, art, fashion, and other aspects of culture.
Best for: Black and Brown creatives and Black social media influencers.
Tip: Every city brings a different vibe and experience to CultureCon attendees, so choose wisely.
15. Roadmap to Billions Annual Conference
Black Women Talk Tech's Roadmap to Billions Conference is the largest tech conference created exclusively by Black women founders for Black female founders. Imagine a stage that showcases the brilliance of Black women in tech and creates real opportunities for funding and friendships. This is a true gathering of Black girl magic and joy.
Best for: Black women in tech, Black female founders, and supporters of Black-owned startups.
In true hip-hop mogul fashion, Sean Combs hosts the Revolt Summit annually to discuss the future of the 4 C's — culture, community, commerce, and connectivity. This is a gathering of young Black creatives and aspiring moguls to learn, network, and celebrate the culture through pitch competitions, panel discussions with executives, and live performances.
Best for: Hip Hop artists, record label executives, music industry professionals, and tech music startup founders.
Tip: There is an option for attendees to meet 1:1 with professionals and executives. Try to schedule a time to speak with them ahead of the conference opening day, so you're not running after them when they are done speaking on stage.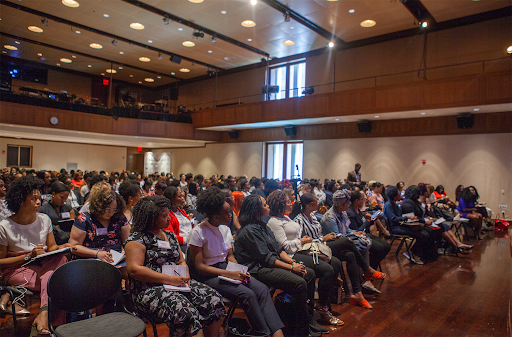 17. Women of Color and Capital National Conference
Where can diverse women of color entrepreneurs and professionals come together to learn all things money, investment, and capital? The WOCXC is the Conference to attend to understand money and finance from a 360-degree lens. This event yields a global collection of financiers, entrepreneurs, and corporate professionals with a wealth of financial knowledge to share with attendees in masterclasses, keynotes, and breakout sessions.
Best for: Angel investors, venture capitalists, fund associates, and Black entrepreneurs.
Since the pandemic, hundreds of companies have committed to more Black and Brown diversity in the workplace. HIREBlack Summit puts its commitment to the test with an in-person and virtual career fair for Black professionals filled with employment opportunities and professional development education. At this summit, attendees can get access to various employers, on-site interviews, and seminars for resume building.
Best for: Job-seeking Black professionals, Black students, recent graduates, and DEI employers
Tip: Attending the virtual summit is just as valuable as the in-person experience because there are some online-only recruitment and interview opportunities.
19. Black Women in Media Annual Conference
The Black Women in Media Conference is the only gathering of Black women professionals in the media industry. The conference experience is their annual opportunity to build bridges toward progress. Attendees enjoy the platform to discuss current events, broadcasting updates, insights on Black women in the news, and more across media and entertainment.
Best for: Black women journalists, editors, producers, and other Black media professionals.
20. National Minority Supplier Development Council Annual Conference & Exchange
The National Minority Supplier Development Council Conference & Exchange (NMSDC) connects minority-owned businesses to corporate partners, municipalities, and governments for networking and business opportunities. Last year's Conference featured keynote speakers like entrepreneur Sevetri Wilson, Pastor and Scholar Rev. Dr. Michael Eric Dyson, and the Mayor of New Orleans, Latoya Cantrell. Registrants can also participate in hands-on workshops and networking sessions to facilitate business connections that close the deal.
Best for: Black supply chain specialists, Black administrators, Black corporate buyers, Black government contractors
Tip: This Conference is all about location, and they know it. Don't be afraid to attend if you've never been, because they keep the fun and entertainment top of mind just like the education.
21. National Association of Black Engineers Annual Convention
There's more to technical careers than software engineering. The National Association of Black Engineers (NSBE) is one of the largest student-governed organizations in the United States, with the support of engineering and technology professionals. Their multi-day, annual convention is where students experience the fruits of their labor. NSBE is a society that conducts very important business during the convention and holds competitions and development activities.
Best for: Black engineering students and recent graduates.
Tip: THE NSBE career fair is a gold mine for students and recent graduates to get recruited.
22. National Urban League Annual Convention
The National Urban League is an association that enables the Black community to secure financial freedom, civil rights, and career progression. Their annual Conference attracts Black professionals, civil rights activists, and community leaders focused on the economic and social justice of Black people. Their yearly event covers topics like entrepreneurship, education, and human rights. The convention is a fresh reminder for members and supporters to continue their efforts for economic self-reliance in the Black community.
Best for: Black professionals, Black government officials, and Black social justice activists.
Tip: Local Urban League chapters have offshoot events and parties at the national convention every year, so make sure you become a member.
23. National Medical Association Annual Convention & Scientific Assembly
There may not be a more important gathering in our society than a convention that brings together the minds and good work of Black physicians, medical students, and health professionals. The National Medical Association Annual Convention & Scientific Assembly is the nation's leading assembly on medical research, public health, and healthcare in the African American community. In addition to the special seminars and presentations on medical science, there is a scholarly exchange of healthcare policy, medical advances, and professional networking.
Best for: Black medical students, Black physicians, Black medical academicians, and Black scientists.
24. Blacks in Government National Training Institute
They say go BIG or go home. With the Blacks in Government (BIG) organization's annual training summit, Black government employees can explore topics that reflect current news, best practices, and cutting-edge updates to enhance public policy and legislation. The NTI offers programming that spans financial management, IT, health, wellness, and communication across varying government levels (local, state, and federal).
Best for: Black politicians, Black government employees, Black public officials, and Black city officers.
Tip: The audience is diverse and varies because of the government status associated with attending. Submit a proposal to showcase new learnings and train government officials on the needs of the Black community.
25. Congressional Black Caucus Legislative Conference
A foremost gathering that bridges civic engagement and policy is the Congressional Black Caucus Annual Legislative Conference. Black elected officials, policymakers, and community leaders assemble yearly to provide a platform to discuss and advocate for policies that impact and positively influence the global Black community, not just Black American citizens.
Best for: Black policymakers, lobbyists, and Congressional Black Caucus members.
Tip: We know you love an all-white situation, but don't miss the all Black party at this Conference. It's a staple event that brings out the best of Black in everyone.
26. Black Enterprise Annual Entrepreneurs Summit
Black Enterprise magazine has created space for Black business owners and entrepreneurs to grow and succeed for decades. The Black Enterprise, Annual Entrepreneurs Summit features sessions and ongoing networking opportunities to help attendees learn how to do more than close the racial wealth gap through their business or other investment efforts.
Best for: Black entrepreneurs, business owners, and startup founders.
Tip: Black Enterprise has annual business-related events that include workshops and classes. If you can't make this one, there are other conferences and summits throughout the year with your name on them.
27. National Association of Black Accountants National Convention
Men lie, women lie, numbers don't! At the National Association of Black Accountants (NABA) National Convention, thousands of members come from all over the country to engage, get inspired, and uplift one another to excel in their accounting careers. This association is driven by its mission to 'empower Black business leaders at every step of their journey.' This convention will keep Black accountants and finance professionals on their toes with direct opportunities for attendees to connect, advance their careers, and stay up-to-date on industry trends.
Best for: Black accountants, Black CFOs, Black banking executives, and Black fintech founders.
28. National Alliance of Black School Educators National Convention
The National Association of Black School Educators is a professional organization for Black educators, including teachers, administrators, and education advocates. Their annual convention is where they can let their hair down and get dirty regarding the future of education. Whether a public teacher or private instructor, there is room for you to come and learn from seasoned academics.
Best for: Black academic leaders, Black teachers, Black school counselors, and Black school principals.
Tip: Teachers deserve their freedom from the classroom. Let this Conference's black-tie gala event be the reason you show up and show out.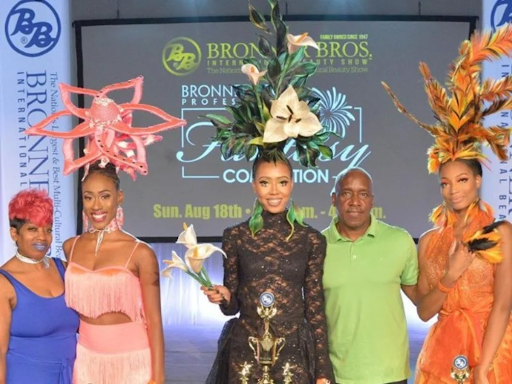 29. Bronner Bros. International Beauty Show
Bronner Bros. has made it their mission to push Black beauty into the world on a Black-owned platform. The Bronner Bros. International Beauty Show is a trade show and educational platform for Black hair and beauty professionals. The event features hair competitions, styling workshops, training seminars, and product demonstrations concerning hair and beauty techniques and trends. If you've seen it in the fashion magazines, on the blogs, or across social media — they did it first at the Bronner Bros. convention.
Best for:
Black Beauty school students
Black beauty professionals
Black hair stylists
Black beauty entrepreneurs
Black beauty influencers
Tip: If you're a beauty junkie, skip the parties and make friends with vendors during the convention. You might get a few free items for your skin and hair regimens.
There should be more diversity in software engineering, coding, and technology. Black Girls Hack lays the foundation for young women to approach STEM with mentors and coaches right by their side. A membership that focuses on Black women in technology, including coders, developers, and other tech professionals; Black Girls Hack annual events provides the best platform for tech mentees and professionals to network, discuss current tech news, and share their personal industry experiences.
Best for: Black women in tech, young Black girl tech aficionados, and Black female software engineers .
31. Black Women in Data Summit
Data is where it's at nowadays and these ladies know it. That's why the Black Women in Data Summit centers on Black women in data science. Their annual summit holds masterclasses for expanding well-versed data skills and breakout meetings for smaller groups to communicate critical barriers in the industry or their roles. Keynote speakers and other sessions mention data analysis, visualization, and machine learning topics.
Best for: Black market researchers, Black data analysts, Black data engineers, Black researchers, and Black UX professionals.
32. ColorComm
ColorComm is the top conference and community for women of color in public relations and communications. The conference offers year-round programming for members and non-members to learn more about their communications craft; however, it draws prominent keynotes like motivational speaker Lisa Nichols and journalist Ann Curry. You won't get overwhelmed by the crowd, sessions, or women in the room because they are there to support you as you grow in the industry.
Best for: Black Communications executives, Black content marketers, Black advertisers, and Black communication professionals.
33. Diversitech Fest
Tech recruitment platform, Tribaja annually hosts the Diversitech Fest — a conference and festival hub focusing on diversity, equity, and inclusion hiring in the technology industry. The diverse business owners and tech professionals attending this festival are eager to discuss topics related to technology and business at length.
Best for: Black entrepreneurs and Black tech professionals
Tip: Don't give up hope if you can't attend in person! The conference is hybrid and virtual registration is an option.
34. Render ATL
Attending Render ATL is hook, line, and sinker for thousands of Black tech professionals wanting to step up at work or transition into more creative design and media roles. This is a conference for. The event includes standard keynote speeches, panel discussions, and workshops, but the topics are more skewed toward software development, design, content, and marketing.
Best for: Black creatives in the digital media and design industries
Tip: The tickets for this conference are much more affordable than other, more established tech conferences because it is new. This is a good first conference for a young software engineer or creative looking to meet new people.
The Black Young Professionals (BYP) Network is a professional development and networking organization for Black professionals in the UK. Their annual conference takes place worldwide to reach young Black professionals everywhere. It provides a platform for Black professionals to connect, learn, solve problems in the workplace, and grow in their careers.
Best for: Young Black professionals with a global mindset.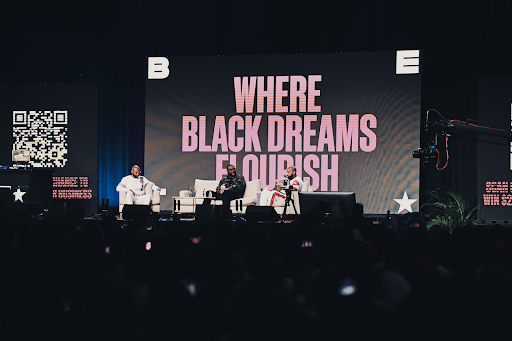 36. Invest Fest
Investfest is the first of its kind, an in-person conference to combine investing, entrepreneurship, hip-hop culture, and entertainment in a festival setting. Just in their 3rd year, they've grown to over 12,000 attendees learning about how to earn their leisure and invest their income into fruitful business ideas and market returns. The two-day festival promotes financial literacy across a number of topics, including government, insurance, taxes, real estate, and more. Last year's event featured a tasty food truck pavilion, a live performance from Rick Ross, VIP programming with speaker Eric Thomas, and immersive fireside chats with Steve Harvey and Tyler Perry.
Best for: Black investors, Black realtors, Black tax professionals, Black business owners
37. NCBMP National Coalition Of Black Meeting Professionals
"NCBMP holds an annual educational conference. It is the purpose of NCBMP to be the preeminent organization in educating African American association executives and meeting planners in all aspects of the meeting planning profession such that, as a result, NCBMP members will be able to (a) maximize a greater return on the meeting dollar investment for their respective organizations, (b) effect positive change in the hospitality industry as it relates to African Americans, and (c) become a voice in the hospitality industry on issues that affect the African American community." (ncbmp, 2023)
Best For: Black meeting planners from numerous business such as civil rights, church and fraternal organizations.
How much does it cost to attend a Black conference?
The cost of passes or admission for Black conferences can vary widely depending on the conference and the level of access that is included with the ticket. Some conferences may offer discounted rates for students or early-bird registrations for recent graduates and young Black professionals just starting out. However, most Black conferences offer premium or platinum packages that include additional access or perks.
Also, some Black conferences are membership-driven because they are hosted by national organizations. Non-members are typically welcome to attend or get a membership with conference admission, while members receive a discounted rate for attending every year.
How to attend a Black conference for free
Black conferences can be expensive if you're a student, recent graduate, startup founder, or a Black professional changing careers. It's likely you'll need financial assistance when trying to find a more affordable way to attend one or any of these conferences to advance your professional development and networking.
Since we know the cost of tickets for Black conferences can range anywhere from a few hundred dollars to several thousand dollars, here are a few ways you can attend for free or at a significant discount while getting the same value or even more than paid attendees.
> Scholarships/Grants: Check any community associations, Meta Facebook groups, or professional organizations that you're affiliated with. These groups may offer scholarships or other forms of financial assistance to help make attendance more accessible.
> Volunteer: Every conference needs humans on the ground for the event to operate. Consider checking the conference website or emailing the steering committee to ask about volunteer opportunities. Volunteering means you will likely not pay for admission to the conference.
> Ask your boss: Meet with your boss or supervisor about attending the conference on their dime or getting reimbursed for your costs. In some companies, it is more formal, and you have a detailed process for requesting to attend; however, other companies may not realize the chance to get their employees the training they need until it is brought to their attention. Black Professionals Summit shares some ideas on how to approach the conversation here. Hey, you never know — you could become the plug!
Tip: If it makes sense, recommend your company set up a booth at the conference as well for brand awareness, demand generation, or recruitment. This venture could get you a free pass and help the company meet diversity goals in ways they didn't think of.
> Fundraiser: Forget a gofundme page. Get personal with friends and family about why attending the conference is important to you and your future. Donations as small as $25 can go a long way.
> Attend one day or virtually: Many conferences offer a virtual component for those who cannot attend in person. Those passes come at a discounted rate or completely free. Some conferences even have one-day passes for multi-day conferences at a much lower cost.
Why should I attend a Black conference?
Specifically, attending a conference targeting an audience of African American professionals is an important experience because it provides the unique but necessary opportunity to connect with others that look like you, have similar experiences, and may face familiar challenges in their respective fields. Black conferences provide a safe space for Black professionals to network, grow in their careers, share best practices, and learn from industry leaders and executives who understand the unique challenges and opportunities that exist within their fields.
Additionally, attending these conferences can help Black professionals to build their professional brand and increase their visibility within their respective industries.
Register to attend Black conferences on Eventnoire
There's never a bad time to attend a Black conference and get the professional development and career skills you need to thrive in the workplace. And when you can meet people just like you, that makes it even better. If you're looking for even more Black professional conferences and industry experiences you can attend, check out Eventnoire. Eventnoire is the premier platform where Black culture and events intersect — connecting Black conference attendees and Black event organizers to the community.

Follow us On Instagram @eventnoirehq, Follow us On Twitter @Eventnoire, Like us on Facebook
Create, Discover & Experience Events For The Culture At Eventnoire.