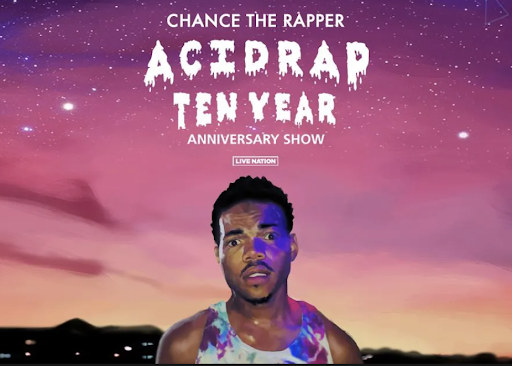 To commemorate a decade since the release of his breakout mixtape, Acid Rap, Chance the Rapper announced that he will be kicking off the celebration with a 3-city tour— and he's bringing special guests along for the ride.
The 3-part series tour at the United Center kicks off tonight with rapper Saba as a special guest. He will follow with a stop in New York to join fellow native Vic Mensa on August 26 and the finale in Los Angeles on September 21, performing songs from the mixtape that kickstarted his career in 2013.
Chance launched a week of celebratory festivities, including a scavenger hunt across his hometown, featuring the rapper's favorite stores to win tickets to the sold-out Chicago concert. As the tour builds momentum, there will be more festivities and activations for his fans to enjoy along the way.
Be sure to check out his pop-up retail store at the WNDR Museum Chicago, open until August 20, to grab some exclusive anniversary merchandise and apparel, including the 10th-anniversary edition of Acid Rap on vinyl.
If you missed out on grabbing tickets to the Chicago show, head to Chance Stuff for available tickets for the New York and LA shows.  

Create, Discover & Experience Events For The Culture At Eventnoire. Follow Us On Instagram @Eventnoirehq, Follow Us On Twitter @Eventnoire, Like Us On Facebook