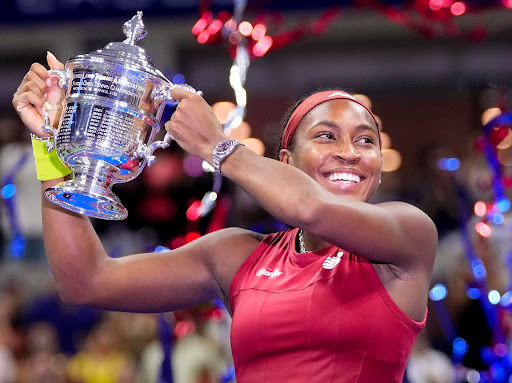 Coco Guaff showed us what champions are made of. The 2-6, 6-3, 6-2 victory over Aryna Sabalenka had an adoring crowd cheering her on as she lay on the court with tear-filled eyes as she secured her first major US Open win this past Saturday.
At 19 years old, Gauff is the youngest American to secure the US Open title since Serena Williams in 1999 and the first American player to win a major title since Sofia Kenin at the Australian Open in 2020. The teen thanked sisters Venus and Serena Williams, stating, "I mean, they're the reason why I have this trophy today, to be honest. They have allowed me to believe in this dream. Growing up, there weren't too many Black tennis players dominating the sport. It was literally, at that time when I was younger, it was just them that I can remember," Gauff told ESPN.
Since her big win, a video of 8-year-old Coco started making its rounds on the internet, celebrating and having a good time as a reminder of how far she has come in such a short period of time. Gauff was met with congratulations from celebrities and athletes, including Serena Williams. Even former President Barack Obama and First Lady Michelle Obama also joined on social media to congratulate the winner.
Gauff told ESPN, "I feel like I'm a little bit in shock in this moment. That [2022] French Open loss was a heartbreak for me. But I realized God put you through tribulations and trials, and that makes this moment even sweeter than I could have imagined."
Even though the tennis star walked away with a $3-million win, the road to victory was not easy; she stated, "I tried my best to carry this with grace, and I've been doing my best. Honestly, to those who thought they were putting water on my fire, you were really adding gas to it. And now I'm really burning so bright right now."
Coco has moved up to take the No. 3 ranking after her win and will return to the top spot with partner Jessica Pegula in the doubles ranking.

Create, Discover & Experience Events For The Culture At Eventnoire. Follow Us On Instagram @Eventnoirehq, Follow Us On Twitter @Eventnoire, Like Us On Facebook