Everyone loves food and exploring new restaurants or local food spots in their city. Even when traveling, one of your many adventures is trying out local restaurants.
We know you want food options that taste great. There's no better food than a Black-Owned restaurant serving a fusion experience or homegrown dish from a secret family recipe. Sometimes, figuring out where to grab a bite or dine in can be tasking. Since there is always a variety, we've compiled a list of Black-Owned restaurants you should check out in your city or when you travel!
What types of food do Black-owned restaurants serve?
When you hear Black-Owned Restaurant, we're hopeful you'll have a million meals running through your mind. But just in case you don't, what exactly is a Black-owned restaurant, and what do they serve? There is no one answer. Black-Owned restaurants serve various food ranging from soul and African cuisine to Italian, Mexican, and many other intercontinental cuisines. At Black-Owned restaurants, there are no limits to what you can expect to bless your palates with.
Many Black-Owned restaurants were financially hit by the pandemic in 2020 so severely they had to adjust their offerings or close down. Well, now, there's no better way to patronize them than to show up and simply order.
We love food; yes, we do! So get into the spirit and this list of Black restaurants you should dine at before, during, or after your next event. Make sure to bookmark and save the links for whenever you may be in any of the cities where these restaurants are located.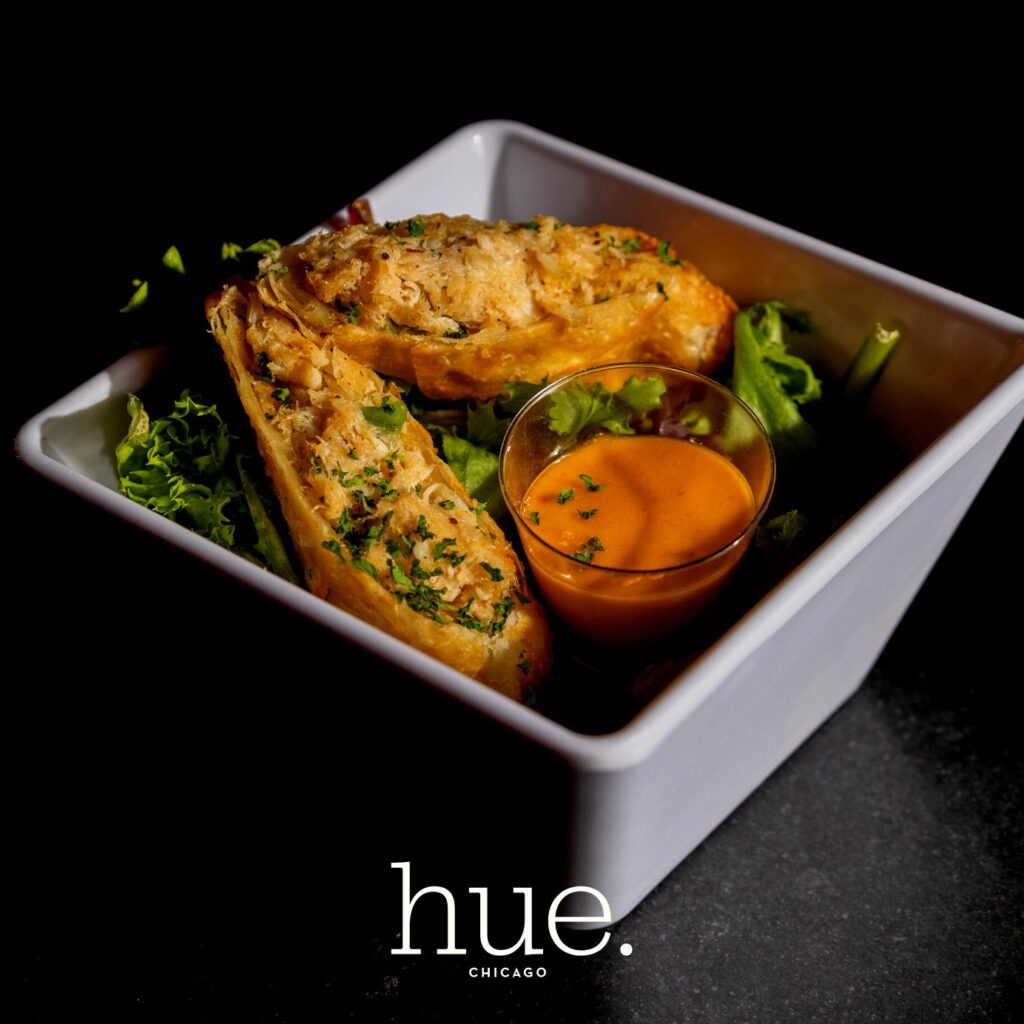 Chicago is a haven for delicious food. Hue is no exception. They keep their menu simple, so each plate is freshly made and exceptional; however, the drinks and atmosphere will surely keep you coming back. Every week, they have events that align with their social luxury experience, including good music and a revered staff. And if you're interested in more curated moments, schedule a private event that will leave you telling everyone about their hospitality.
Tip: Most people love and can't get enough of the "salmon and crab egg rolls"
2. Lagos NYC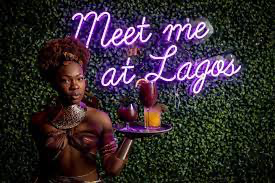 The ultimate, authentic fusion of West-Africa and New York City, Lagos offers up an authentic mix of traditional African, Caribbean, and Black soul food like their infamous cocktails, Rasta Pasta, or delicious Jollof rice. They have such a medley of meals that you can take it easy with their wings or really dive into their Pepper Soup or Moi Moi. Their meals come in sizable portions and will fill you up!
3. Slutty Vegan
Slutty Vegan is a 100% plant based restaurant that serves burgers, fries and more in Atlanta, Georgia. The name Slutty Vegan is definitely naught, provocative and grabs all of your attention. If you're looking for fast food plant-based alternatives you can get late at night, this is the spot. Pinky Cole, the founder of this restaurant wants you to enjoy all the things you love, while saving the environment.
Tip: Be sure to get the fries with the slut sauce — it's vegan too!
4. Bureau Bar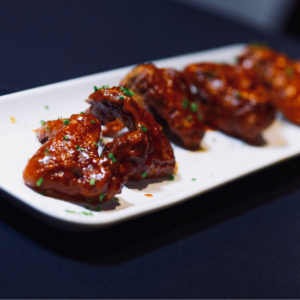 If you're local to, or visiting the southside of Chicago, Bureau Bar and Restaurant is an absolute must-visit. In the heart of a culinary city, Bureau serves traditional soul food with contemporary twists that really showcase flavor. Yes, you'll find your modern bar snacks and sides, but there is nothing ordinary about the taste or the service that comes along with it. And even more than a restaurant, Bureau is committed to being a hub for their budding neighborhood.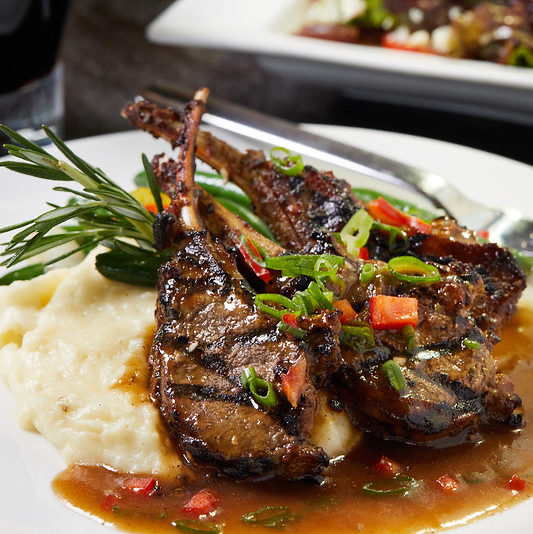 This capital-based mainstay reeks of D.C. who's who. The Park at 14th is the place to go for after-work drinks, weekend brunch, or gameday vibes. This restobar offers a variety of made-from-scratch comfort food with refreshing cocktails at your fingertips. If you love views, this bar is overlooking Franklin Square Park and the hustle bustle of this country's political elite.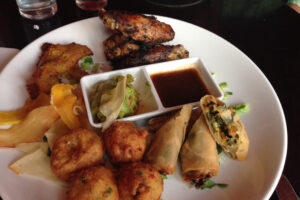 "Out of many, one people" is the motto of Negril Village and they keep that spirit from the service to the food. Negril is a popular Caribbean restaurant with locations in Atlanta and in New York, so don't expect to just walk in. Grab a reservation to try some of their staples including the Calaloo Omelette at brunch or the Oxtail Empanadas and Dutch Pot Stew Chicken at dinner.
7. Red Rooster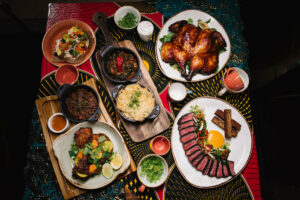 How best can a chef celebrate their roots? By integrating the roots of the community where he cooks. Red Rooster's co-creators Andrew Chapman and Chef Marcus Samuelsson have some of the best culinary dishes in New York City inspired by the Harlem Renaissance and its community. This restaurant has a direct impact on the neighborhood and if you visit, don't be shy to head into their supper club speakeasy for the live music and cuisine pairings.
Everyone loves some good soul food, mostly because it reminds a lot of us of home. It's that flavor you're familiar with, and sometimes it tastes just like mom's. Soul Food House is located in Azabu Juban, Tokyo, Japan, and serves authentic soul food that will have you craving seconds. The owners Latoya and David Whitaker have been serving up soul food in the Japanese city since 2015. Their menu boasts a variety of mouthwatering, delicious southern cuisine. They also serve vegan dishes, which means no one is left out of the fun. If you love a laid back setting, creative cocktails and some good music with your food, visit Soul Food House.
Tip: Most people love and recommend the "Country fried steak."
9. Tribute Coffee (Garden Grove)
This hidden gem is located in California and is highly rated on Yelp. They have a nutritious menu that's great for those looking to grab breakfast, brunch or a quick bite. Their unique selection of food and beverages are delicious and well made. It doesn't matter if you're in the mood for sweet or savory, you'll find something tasty from sandwiches to treats.
Tip: The Baristas are super friendly and want to hear your story. They'll tell you some of theirs too if you ask!
10. Ikoyi London
Ikoyi London is a fine dining restaurant that offers a gourmet experience of Nigerian cuisine. This spectacular restaurant is located at St. James Market, in South West London, and is named after a district in Lagos, Nigeria. The owners of Ikoyi want everyone to experience Nigerian cuisine by using a blend of West African and British ingredients to create West African flavors. It's definitely high end, but worth every dime. You can book tables on their site as they also cater to private dining for up to 6 guests. They also offer an experience called the "Exclusive Hire", where you can have a menu customized to your liking.
Tip: Be sure to book a table on time for the best experience.
11. World Famous House of Mac
Known for their unforgettable mac and cheese, World Famous House of Mac serves up dishes that are to die for. This restaurant is located in Miami and Orlando Florida and is open 7 days a week. They have a variety of mac and cheese like the five cheese truffle mac and cheese, lobster mac and cheese and so many more. Their menu is also vegan inclusive. They serve up a number of other items that people go crazy for.
Tip: This restaurant offers nationwide delivery.
12. Hilltop Coffee and Kitchen
Located in the Los Angeles area, Hilltop Coffee and Kitchen is a perfect spot for breakfast, lunch or brunch. Most customers say their beignets are arguably the best in LA. Their menu is pretty interesting as they add their own twists to salads, sandwiches, treats and drinks. Hilltop Coffee and Kitchen has 4 restaurants around LA which are in Slauson, Inglewood, Eagle Rock and DTLA.
Tip: It's best to visit this restaurant early in the day as they shut down at 3 PM and the kitchen closes at 2.30 PM.
If you love African and Caribbean cuisine, this is the right spot for you. Afrodish serves up a fusion of Afro-Caribbean food like the famous delicious Jamaican patties and West African Jollof. Afrodish is located in Edgewood, Atlanta, GA and is one of the best places to eat. The owner is originally from Ghana and has found a way to fuse dishes from this region and the Caribbeans. Their meals come in sizable portions and will fill up!
Tip: This restaurant is located inside the Sweet Auburn Market.
14. Germantown Pub
Germantown Pub is an interesting and laid back space in Nashville, TN. This is not your average sports bar, as their menu for food and drinks have lots of variety. The food and drinks here are authentic. A great place for an evening with friends.
Tip: This restaurant is closed on Sundays.
15. Hint of Soul
Do you love soul food? Well, we do too. If you're ever in Phoenix, AZ, and you're craving that taste from home, delectable soul food, Hint of Soul is the perfect place to be. From premiere catering to private dining, this restaurant offers unique experiences to suit every customer's needs.
Tip: Private dining can be booked ahead of time without a deposit.
16. Boney's BBQ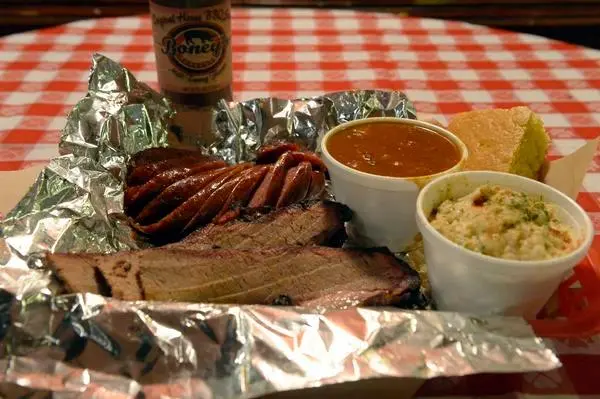 If you're a fan of BBQ and you're around the Denver area, be sure to check out Boney's BBQ. This restaurant is said to have some of the best BBQ in town and some of the best sides all made from scratch. From dry rubbing their meat to the hickory smoke flavor it gets from being grilled, their food is unforgettable.
Tip: Open to large group orders and catering only.
17. Mad Crab Seafood & Wings
This Orlando based restaurant offers take-out or dine in services that are memorable. If you love seafood and wings, get ready to have your tastebuds tickled. Mad Crab Seafood & Wings has become one of the most talked about restaurants in the Orlando area. Their flavored wings, snow crabs and variety of seafood dishes are a few of the delicious items on their menu. They also serve some incredible side dishes.
Tip: Get garlicky with an order of the garlic eggs and garlic potatoes.
18. Le Crepe Cafe
Got a sweet tooth? Le Crepe Cafe in Honolulu serves the most delicious sweet or savory crepes you would come across. In addition to this, their menu also lists waffles, acai bowls, smoothies and fresh salads. The crepe is the star of the show here at Le Crepe Cafe and we totally recommend it if you are in the Honolulu area.
Tip: The crepes are way bigger than you think!
A Taste of Nigeria is an authentic Nigerian restaurant in Houston, TX, great for those missing a taste of home or for newbies exploring African cuisines. Fufu has become highly popular over the years, and if you're in Houston and want the authentic experience, we recommend this restaurant 100%. This restaurant also serves some Cameroonian and Senegalese dishes. This is a great way to explore flavors from West Africa.
Tip: The dishes can be spicy, so choose spice levels wisely.
This self acclaimed best coffee shop is not entirely exaggerating when they brag. The Gilly Brew Bar is a coffee shop in Stone Mountain, GA. If you're a coffee lover or connoisseur, don't forget to add this spot to your list of places to go! They're well known for their very creative cocktails like tea and coffee drinks. The food here is pretty amazing and pairs well with their adventurous drink menu.
Tip: You can park at the library or general area parking without being ticketed.
21. Superchefs
Superchefs in Louisville, KY, has been around for a short time, but is making its mark with delicious meals. According to the restaurant's owner, their menu can be described as "urban eclectic American dishes with a twist". They've got quite the packed menu with creative, one of a kind items, like their pancake waffle taco.
Tip: The red velvet waffle sandwich is a bestseller.
22. The Land of Kush
Vegan food is becoming more and more explorative, and the Land of Kush in Maryland, Baltimore, is one of the spots serving one a kind vegan dishes. Their menu consists of delicious vegetarian and vegan items that will keep you coming back. This restaurant serves vegan soul food like no other, like vegan crab cakes and so much more. It's natural, it's fresh and it's flavorsome.
Tip: Sunday brunch begins at 10 AM. Pull up early to skip the wait.
23. Gritz Cafe
Gritz Cafe is a very popular soul food joint in Las Vegas, Nevada. This restaurant has been rated by the Las Vegas Review Journal as the best soul food spot in the city. Their catfish, shrimp and grits and fried chicken are praised by their customers and it's certain you'll be taken to a different flavor town with every dish you order.
Tip: Breakfast is served until 3 PM.
Selena's Custom Kitchen in Portland, Oregon is serving the best family recipes to your plate. Their delicious food comes in portions that will have you filled up in no time. The reviews for this place are superb, with people recommending the fried salmon and fries.
Tip: Lucky you! They have a drive-in and delivery options available.
25. Greenleaf
Located in downtown Milford, NH, Greenleaf is an award winning restaurant that opens you to a world of culinary art. This is a farm-to-table restaurant, which means their dishes are made from seasonal foods that are locally sourced. From savory to sweet, small to big portions, Greenleaf provides an ultimate dining experience.
Tip: They have drinks curated for every season. Ask your waiter what they recommend!
26. Vonda's Kitchen
If you need a big old meal to fill you up before or after an event, Vonda's Kitchen in Newark, New Jersey has some big portions. Vonda's Kitchen is open to serve breakfast, lunch or dinner. Their unforgettable menu items like the spinach and ricotta pancake or the grilled salmon cake panini are delectable.
Best for: Large groups, content creators, family outings, and parties.
Tip: Keep in mind, the lines can get ridiculous.
This family owned business in Houston, TX, has some of the best BBQ you'll taste. Some people say you can smell the food from a street away! Burns is perfect for dine-in, take-away and delivery, bringing you delicious dishes everyday. It's great for family outings and large groups.
28. Jambo Cafe
Jambo Cafe is a multiple award winning restaurant in Santa Fe, New Mexico. This one of a kind spot is well known for their specialty dishes, like the North African spiced lamb burger. Their dishes are inspired by North African meals, and are spiced to perfection.
Tip: Try out their Moroccan spiced marinated chicken kabobs.
29. Leah and Louise
Leah and Louise is located in Charlotte, NC, where they serve traditional southern dishes. Their restaurant is vibey with a Jukebox, well seasoned food and a taste of southern cooking. Their menu offers you multiple options when it comes to food and you can't go wrong with their famous "Bird is the Word" sandwich.
Tip: Yep — you should order "Leah's Cabbage."
30. Black Walnut
Black Walnut is a gourmet restaurant in Oklahoma City, OK, with a menu that will blow your mind. If you're looking for a fancy dining experience, then you should be reserving your table right now. They serve some of the most delicious dry aged Tomahawk steak, with a side of two cheese mac and cheese.
Tip: This is a popular OKC spot! Be sure to reserve a table over the weekends..
Tip: Portions are generous, so come with an appetite.
Attend events at Black-owned restaurants with Eventnoire
Food and events are the best experience one could ask for and a great way to bring people together to enjoy things they love. From Black-owned restaurants to Black-owned events, the possibilities are endless.
Eventnoire is the premier platform where Black culture and events intersect — connecting attendees and event organizers to the Black community. Stay updated with what's happening in your area by following us on social media!
.

Follow us On Instagram @eventnoirehq, Follow us On Twitter @Eventnoire, Like us on Facebook
Create, Discover & Experience Events For The Culture At Eventnoire.