Surprise performances, appearances, and tributes made this year a record-breaking game-changer.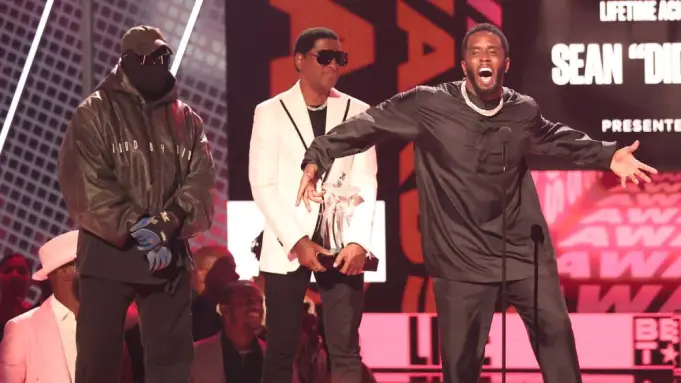 Here Are The Top Five Moments From Culture's Biggest Night BET Awards 2022
Black Women Have The Conversation
Taraji P. Henson served effortless looks as this year's host. The Golden Globes actress did a phenomenal job and used her platform to address the Supreme Court's overturn of Roe v. Wade. "It's about damn time we talk about the fact that guns have more rights than a woman," the actress said. Her words set off a call to action as Janelle Monáe, and Jazmine Sullivan followed suit.
2. Mariah Carey Joins Latto Onstage
Big Latto gave a dynamite performance with her hit record 'It's Givin' and stole the show when the #1 Diva herself, Mariah Carey vocals, hit the mic. Mimi's silhouette led the way for her grandeur appearance. The audience lost it when the Icon hit the stage and joined Latto for one of the most talked-about performances of the night.
3. Diddy's Lifetime Achievement Tribute
Sean "Diddy" Combs received BET's Lifetime Achievement Award. Diddy's legacy is iconic and one that established black culture as fashionable, marketable, and valuable! His Bad Boy label is where his role as a producer broke classic records. Jodeci, Mary J. Blige, Lil Kim & The Notorious BIG are extensions of Bad Boy's illustrious history. Their star power and more hit the stage during culture's biggest night to celebrate Combs. Ye also gave Diddy his flowers and honored his influence as a role model. Diddy accepted the award with grandeur and gave a tribute to the late Kim Porter.
4. Chloe Makes Beyonce Proud
Beyonce's protege killed the stage. Her 'Suprise & Treat Me' performance left no room for games. The humble and talented songstress gave rich vocals and full-bodied dance moves. Chloe owned the stage and celebrated with a bouquet from her mentor, Beyonce Giselle Knowles-Carter.
5. Brandy Joins Jack Harlow Onstage 
"Ray Js" sister and some guy performed together..JK. Multiplatinum and Grammy Award-Winning Singer, Actress, and Vocal Bible, Brandy gifted Jack Harlow with her presence on Sunday. The internet lost it when the legend came out looking amazing alongside hip hop's newest fave Jack Harlow. The two of them collaborated on a memorable moment and settled their "nonexistent beef" once and for all.
If You Missed Out Or Want To Relive The Biggest Night In Culture, Click Here To Watch The 2022 BET Awards Now