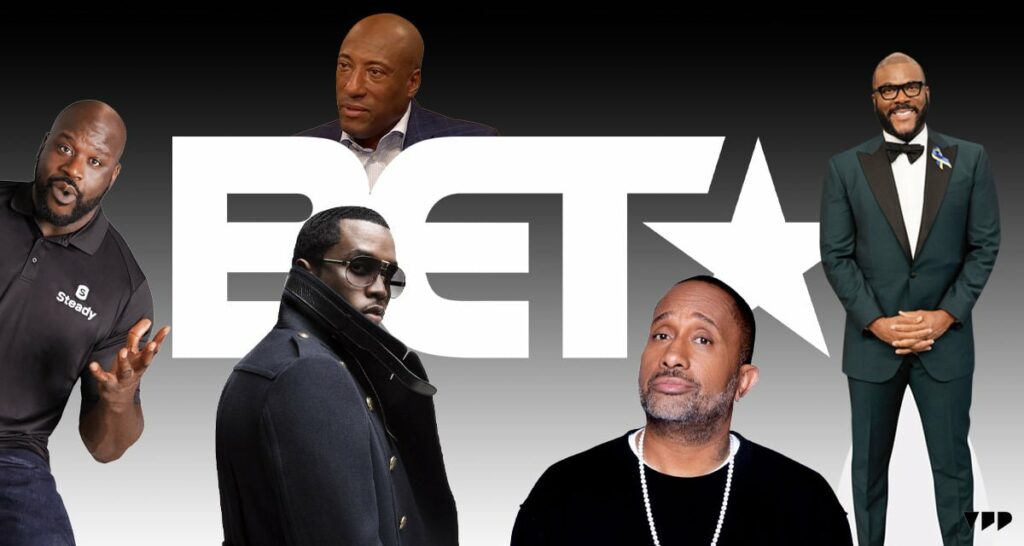 We are all on pins and needles, waiting to see who will be the winning investor of the BET Media Group.
BET (Black Entertainment Television) is up for sale for an estimated $3 billion, and a few notable men are in the race to buy the leading black-owned media company. Tyler Perry, Shaquille O'Neal, and 50 Cent are just a few of the names that have been buzzing around the internet recently, and fans are eager to know who will get their hands on the BET throne.
In the running, we have well-known actor, writer, producer, and director Tyler Perry, who gave us the fictional matriarch yet relatable character "Madea"; Perry has been a major force in Hollywood for many years, and his impact on the industry is undeniable. Next is Shaquille O'Neal, former NBA player, four-time NBA championship winner (three championships with the Lakers), and a 19-year basketball career with six NBA teams! Since retiring from the NBA, he's made a name for himself as a businessman. Shaq is an investor, spokesperson, and owner of multiple chain brands, including Papa John's, Five Guys, Krispy Creme, and many others. He's also a television analyst for Inside the NBA and has served as a host on America's Got Talent. Shaq could bring his business acumen and vast contacts to the table, making BET a more diversified and lucrative investment.
50 Cent, who began his life's journey in the music industry and has since expanded his career as an Actor, television producer, and businessman, is another potential bidder. He's worth $30 million and is the leading man of content over at Starz. BET might need his unique background and experience in the entertainment industry to stay competitive.
Byron Allen, owner of The Weather Channel and TheGrio, also recently joined the list of contenders along with mogul Sean "P Diddy" Combs, widely known for creating "Bad Boy Records." Diddy is a respected authority in the entertainment industry and has become more of an entrepreneur in the last decade, whose legacy is synonymous with signing big names such as The Notorious B.I.G., Lil Kim, and Mary J. Blige.
Each of the named men has achieved tremendous success in their respective fields. It's no wonder they are leading contenders to buy the BET network. Tyler Perry's creative genius, Shaq's business acumen, and 50 Cent's entertainment industry knowledge could each bring different yet valuable bonuses to BET. The race is on, and we can't wait to see which multi-talented celebrities will take over the throne. Regardless of the outcome, we're confident that whoever becomes its new owner will bring more excitement to the media landscape.
Stay tuned to find out who will ultimately walk away with the win!

Follow us On Instagram @eventnoirehq, Follow us On Twitter @Eventnoire, Like us on Facebook
Create, Discover & Experience Events For The Culture At Eventnoire.