The Eventnoire guide you need to help plan your 2023 AfroTech itinerary for social events.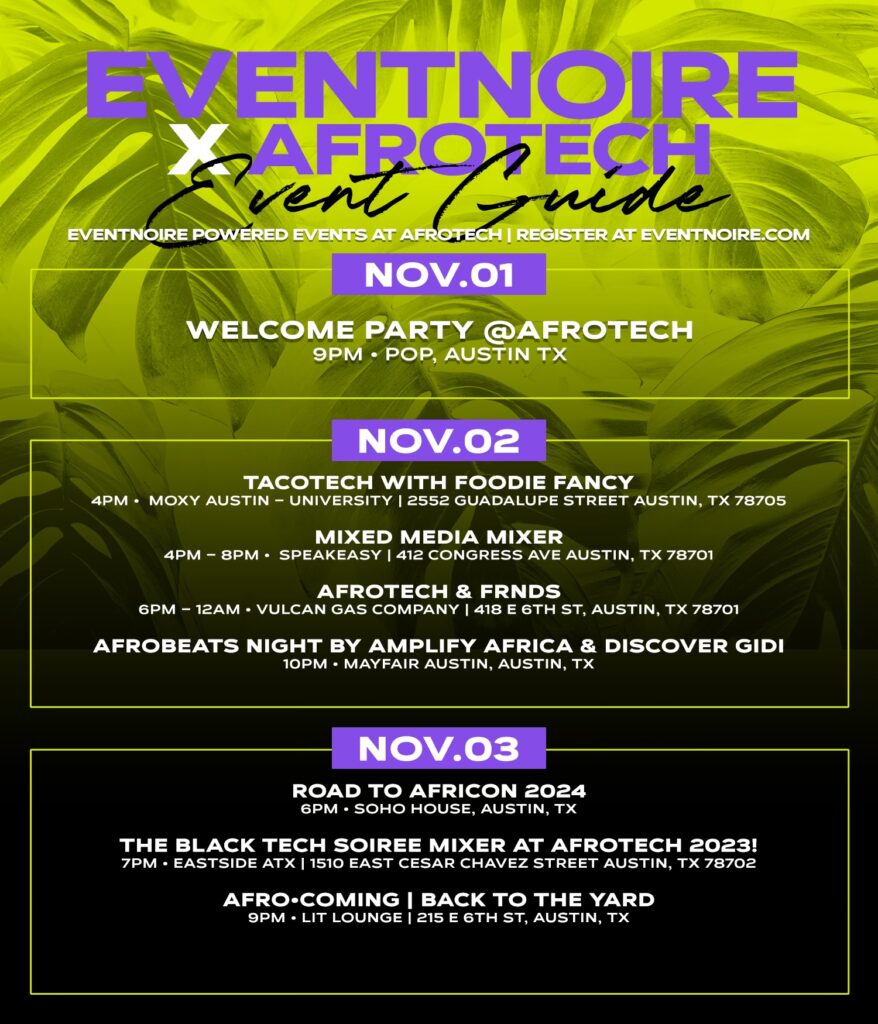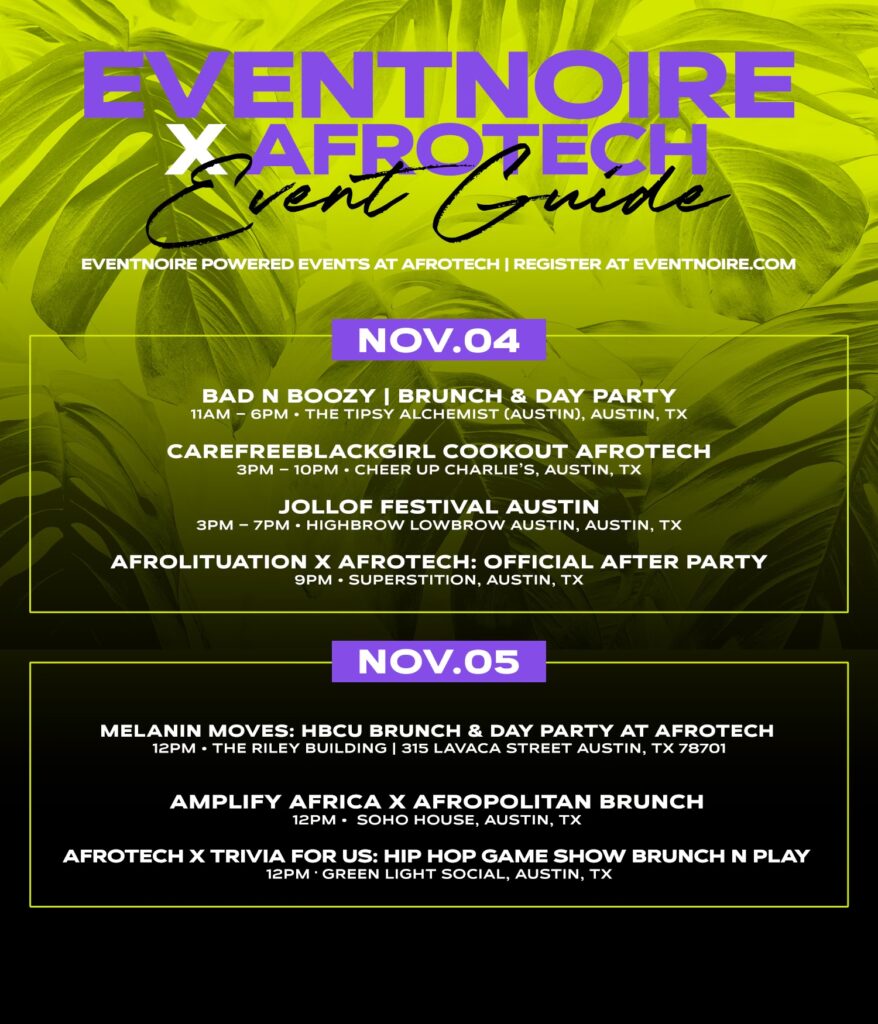 2023 AFROTECH Events You Shouldn't Miss!
What is AFROTECH?
The Afrotech Conference is a significant annual event that focuses on the intersection of technology, entrepreneurship, and the African diaspora. The conference brings together a diverse community of Black professionals, entrepreneurs, innovators, and tech enthusiasts to discuss, share knowledge, network, and celebrate the achievements and contributions of Black individuals in the tech industry.
The Afrotech Conference plays a vital role in promoting diversity and inclusion, supporting the growth of Black-led startups, and advancing the careers of Black professionals in the technology sector. It provides a space for dialogue, collaboration, and empowerment in the Afrotech community.
View The Official Eventnoire AFROTECH Event Guide Below!
Click on a Date to see Events.
How much does it cost to attend AFROTECH?
The cost to attend the Afrotech Conference can vary depending on several factors, including the type of ticket, the time of purchase, and any special promotions or discounts that may be available. Conference organizers typically offer different ticket categories, such as general admission, student rates, VIP passes, and group discounts, each with its own pricing structure.
To determine the current and specific costs of attending the Afrotech Conference, I recommend visiting the official Afrotech website or contacting the conference organizers directly. Conference pricing and ticket availability can change from year to year, so it's important to check the most up-to-date information on their official website or through their official communication channels. This will provide you with accurate and current pricing details for the conference you plan to attend.
Why should I attend AFROTECH?
Attending Afrotech can be a valuable and enriching experience for various reasons. Here are some compelling reasons why you might consider attending Afrotech:
Networking Opportunities: Afrotech provides a platform to connect with a diverse community of Black professionals, entrepreneurs, and tech enthusiasts. Building a network of like-minded individuals can lead to new collaborations, mentorship opportunities, and valuable contacts in the tech industry.
Career Advancement: Whether you're looking to advance your career or explore new job opportunities, Afrotech can be a valuable resource. You can learn about job openings, industry trends, and skills development to help you progress in your tech-related career.
Skill Development: The conference often features workshops, panels, and presentations on a wide range of topics, from technical skills to soft skills. You can gain knowledge and insights that can help you excel in your current job or prepare for future opportunities.
Inspiration and Education: Afrotech hosts influential speakers and thought leaders who share their experiences and insights. These keynotes and sessions can inspire you, provide a fresh perspective, and motivate you to pursue your goals in the tech industry.
Startup and Entrepreneurship Support: If you're an aspiring entrepreneur or currently leading a startup, Afrotech offers resources and connections to help you grow your business. You can pitch your ideas, seek investment, and learn from successful Black entrepreneurs who have gone through similar journeys.
Diversity and Inclusion: Afrotech is committed to promoting diversity and inclusion in the tech industry. By attending, you support and contribute to these efforts, helping to create a more equitable and inclusive tech ecosystem.
Celebration of Achievement: Afrotech celebrates the achievements and contributions of Black professionals and entrepreneurs in technology. You can be part of a community that recognizes and honors the positive impact of Black individuals in the industry.
Exposure to Industry Trends: Stay up-to-date with the latest trends, technologies, and developments in the tech world. Afrotech often showcases cutting-edge innovations and insights that can shape the future of the industry.
Community Building: Beyond the conference, Afrotech can help you become part of a supportive and empowering community of tech enthusiasts and professionals. This community can provide ongoing support and collaboration opportunities.
Personal Growth: Attending Afrotech can be a personally enriching experience. It can boost your self-confidence, expand your horizons, and empower you to pursue your goals and dreams.
Ultimately, whether you're looking to advance your career, start a business, make new connections, or simply be inspired, Afrotech offers a dynamic and inclusive environment for individuals interested in technology and entrepreneurship, particularly with a focus on the African diaspora.
Register to attend AfroTech events on Eventnoire

If you're looking for even more cultured events and experiences you can visit Eventnoire. Eventnoire is the premier platform where Black culture and events intersect — connecting event attendees and event organizers to our community.
Host Your Next Event On Eventnoire Where Culture & Events Intersect!
Click Here To Learn More https://eventnoire.com