The best Black music festivals carve out safe spaces for the Black community to celebrate life, culture, and their heritage through music. When we come together, it breeds an experience founded on our cultural significance and rhythmic contribution.
On top of bringing us the best musical performances, these multi-day festivals typically include unique food courts, opportunities for networking, and after parties you'll never forget.
Take a look at our list of the following Black music festivals from around the world and start saving for your ticket.   
1.Hyde Park Summer Fest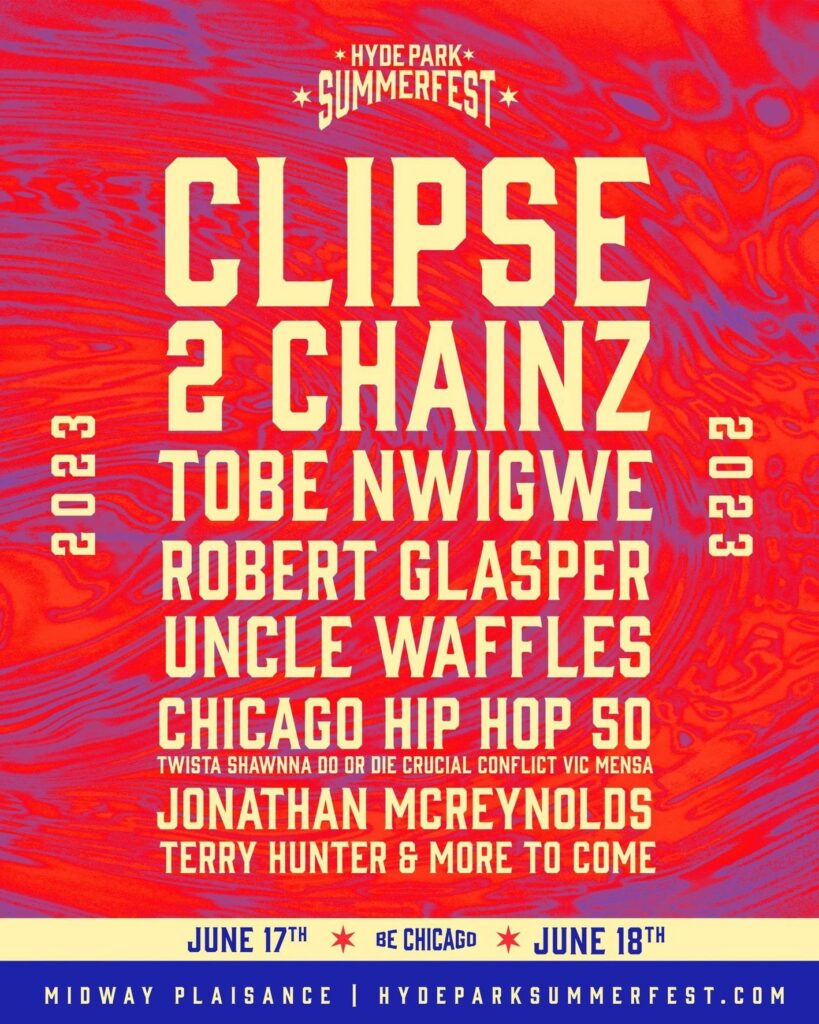 Hyde Park Summer Fest is the official kickoff to summertime Chi! This annual event mixes great music, good food, and craft beer with the great people of one of Chicago's Iconic neighborhoods. This festival is unlike any festival you've ever been to and is set to return June 17th and 18th with a lineup you don't want to miss!
Get tickets to HPSF 2023 right here on Eventnoire.com
2. AfroFuture in Accra, Ghana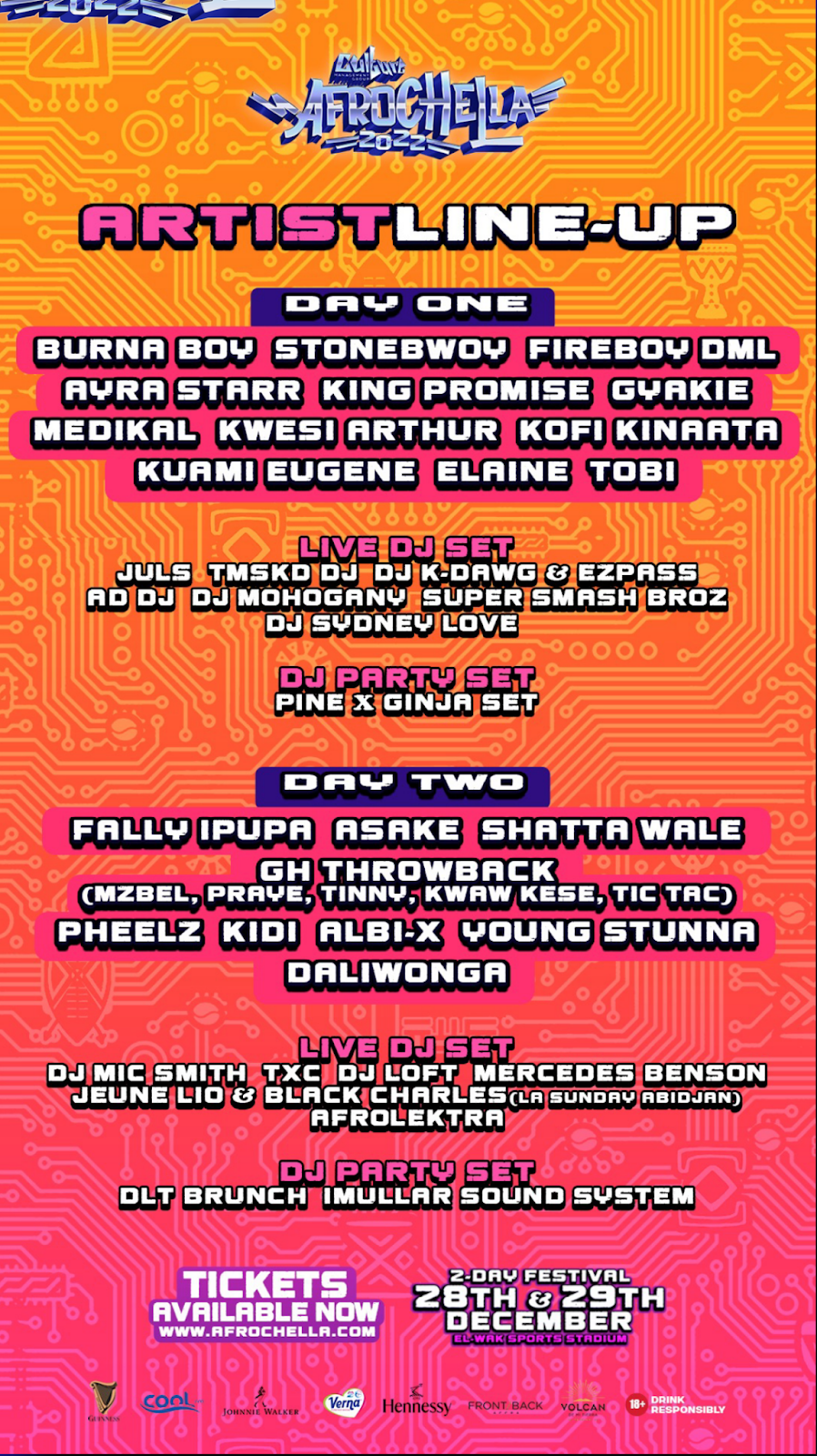 Formerly known as AfroChella, the two-day Afrofuture festival celebrates the culture as the African Diaspora returns to Accra, Ghana every December. As African music climbs the charts worldwide and African fashion and art intersect with Black culture, Afrofuture is the first of its' kind to put it all on one stage.
If you're all about dancing to Amapiano, singing Afrobeat, and taking Instagram friendly pics in front of an African aesthetic — this is the festival for you.
3. One Musicfest in Atlanta, Ga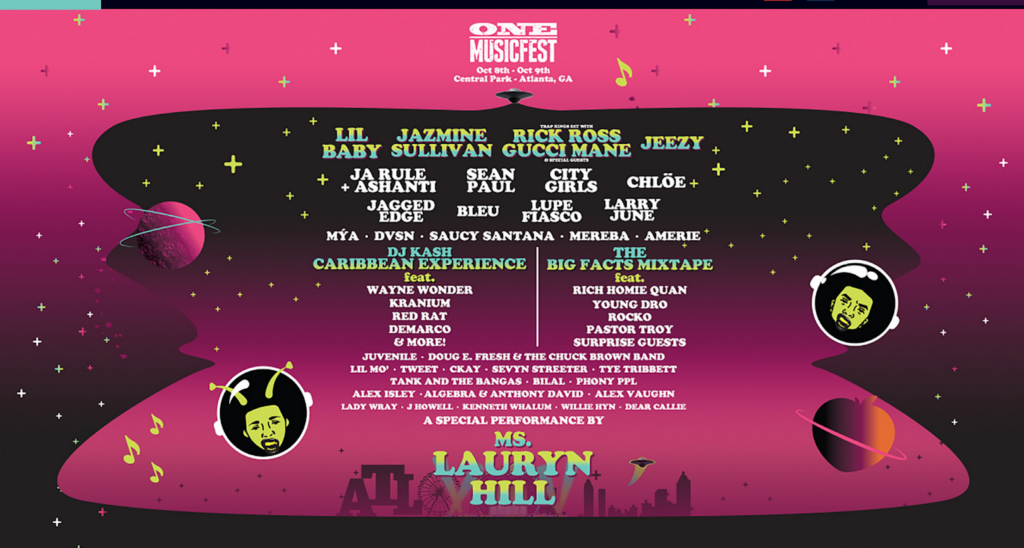 Fall season in Atlanta brings lots of color and a slew of high-profile events like the BET Hip Hop Awards, A3C, and a festival favorite. One Musicfest is an urban progressive music experience that gathers over 50,000 music lovers together for a variety of events in one weekend.
The festival is very connected to the community, so if you're a local, expect a few additional events and parties involving the One Musicfest brand throughout the year. If you're a visitor, get ready for a unique set of sounds, sponsored activations, and a yummy international food village over 2 days.
If you have Ari Lennox, Summer Walker, Outkast, and Soulja Boy on your playlists — you may want to check this festival out at least once.
Tip: Take the train to the festival because parking and traffic in Atlanta is a very painful experience.
4. Essence Festival in New Orleans, La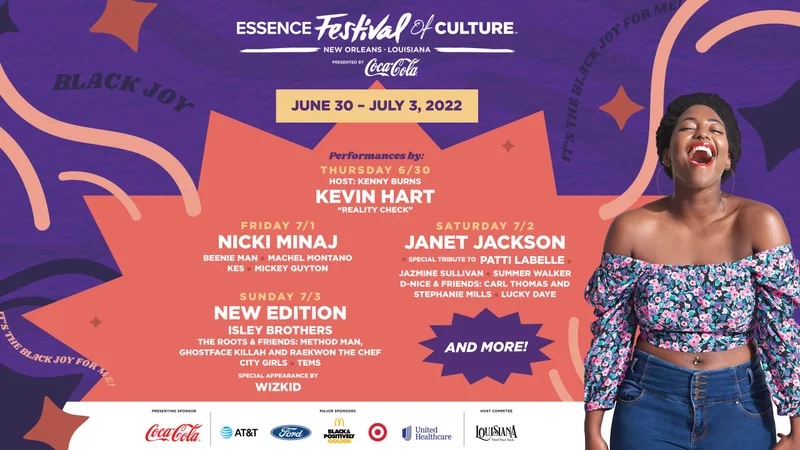 What started as a one-time event in 1995 has become one of the longest-running, most attended Black festivals in the country. Essence Festival of Culture is held every year in the most hospitable city in America — New Orleans. From good food and music to deep culture and history, the Essence Festival takes place every 4th of July weekend for the Black community to come together and party with a purpose.
Essence Festival is one of the few festivals that is still held in a stadium setting and draws a crowd that loves Black music no matter if its City Girls or the Isley Brothers. Additionally, there are a ton of different summits and sessions to attend during the day before getting your groove on in the Superdome.
They say this festival is for the aunties, but we'd like to think with events and activations happening all over the city, there is something for everybody.
Tip: It's best to get into the city early to beat the crowds, so you can get a head start of the Creole eats and waterfront views
5. Flytime Festival in Lagos, Nigeria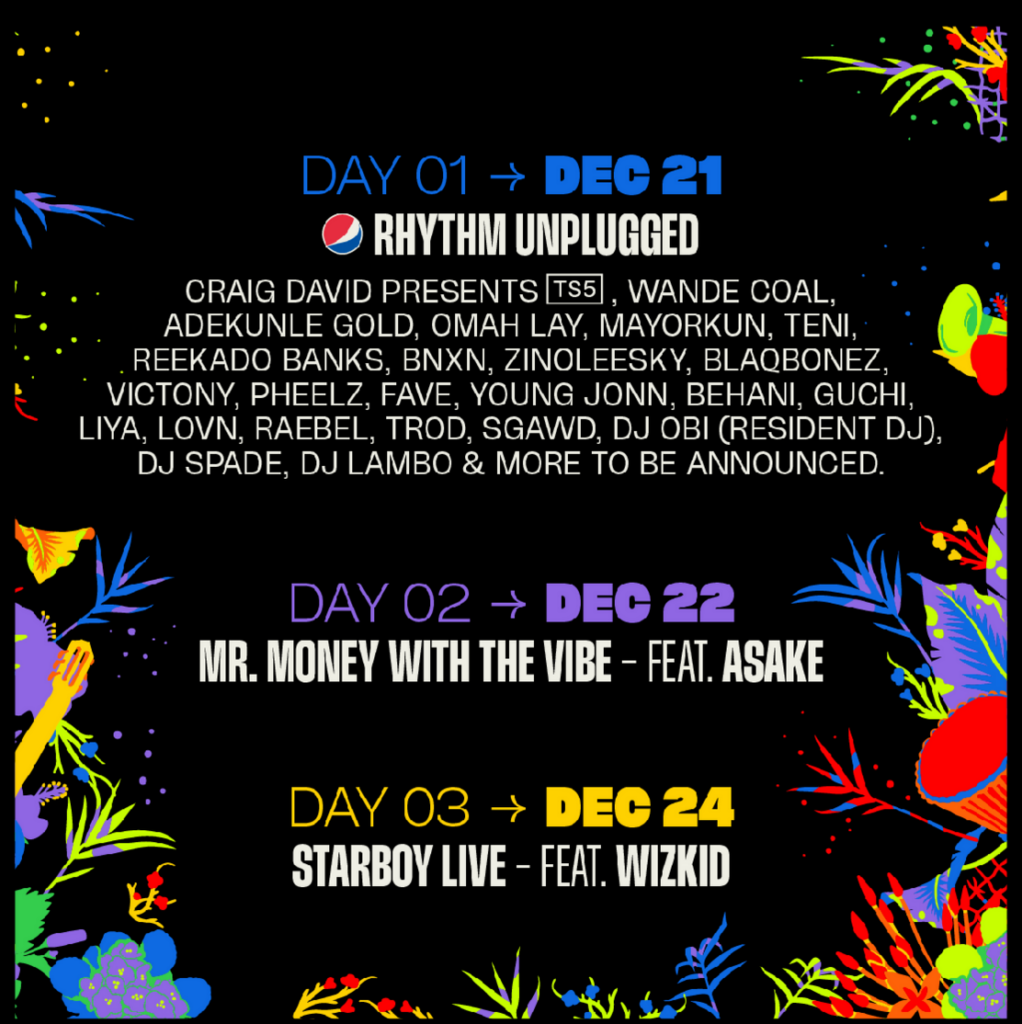 Billed at Nigeria's longest-running, indoor music festival, the Flytime Fest is a premium musical experience that features hundreds of major African artists and international acts on one stage.
During West Africa's busiest season, dubbed Detty December, Flytime Fest works with Pepsi to curate food, beverage, and photo experiences attendees cannot get anywhere else in the country.
If you're trying to catch African artists performing in their country, at a discounted rate, and with the vibes of their homeland, Flytime Fest is a must-attend.
6. AfroNation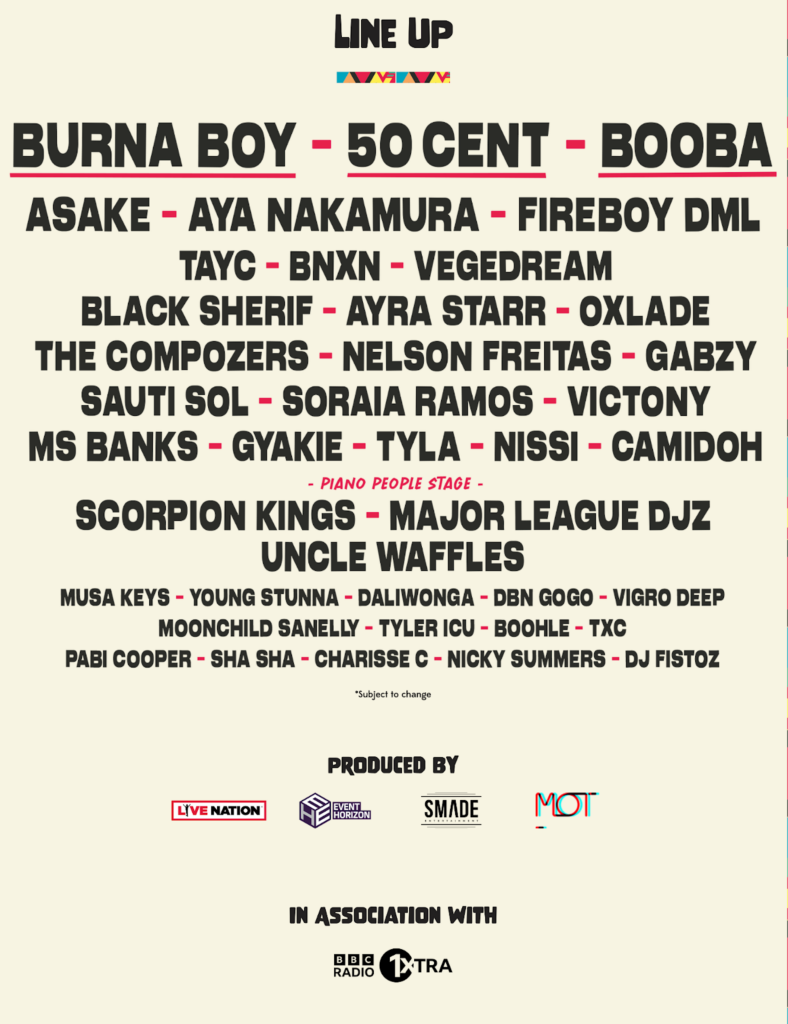 Which festival takes attendees to different cities with a view of the water and Afrobeat as the soundtrack? It's called Afronation. From Portugal and Miami to Puerto Rico, this festival was birthed by a group of friends seeking to take live Afrobeat music to the world.
Wherever you experience Afronation, you'll be sure to have multiple stages creating vibes from day to night and a beach nearby to make waves during your vacation.
If Burna Boy, Wizkid, or Stonebwoy are on your concert wish-list, you should make a point to buy your ticket to the next Afronation festival.
7. Strength of a Woman Festival in Atlanta, Ga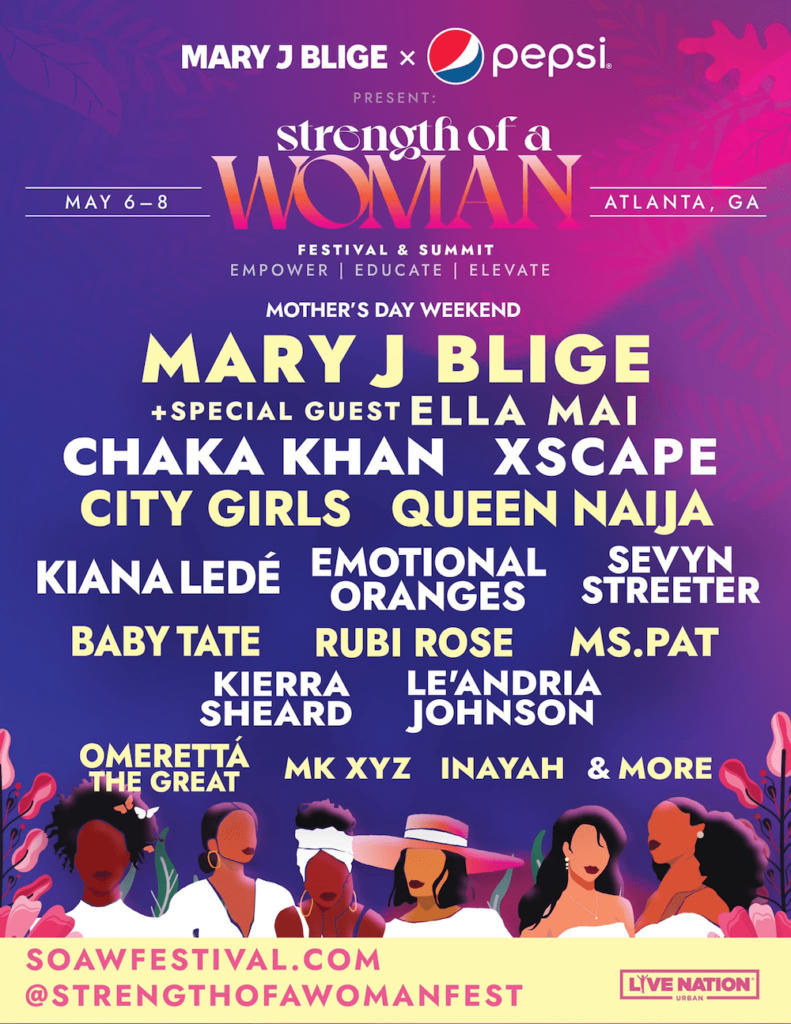 Mary J. Blige has a knack for bringing women together for celebration of life. Her creation of the Strength of a Woman Festival is a vibrant three days of comedy, music, and community — keeping women at the forefront of the experience.
Last year, tons of musicians and empowerment speakers came together to set the foundation for what will be an annual event devoted to building up Black women through music and day-time sessions.
The Strength of a Woman festival is very similar to the Essence Festival but on a smaller scale. If all things Black women and a southern city are your jam, this is another go-to for your festival schedule.
8. Afropunk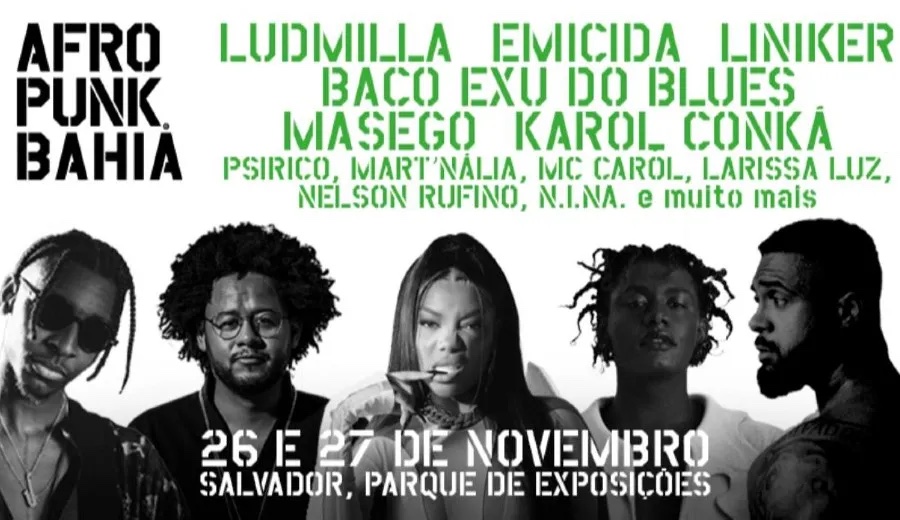 The most eclectic gathering of Black people around the world is Afropunk. It's somewhat like our very own, present-day Woodstock. Attendees are pieces of art — dressed in their most creative, fashionable outfits to match the sounds of the diverse musical lineup.
Afropunk can be experienced in South Africa, France, United States, or South America. The festival is hosted around the world so the culture can experience Black music everywhere. Purchase your tickets to any of their festival dates, year-round.
Tip: Your outfits will be admired, but still dress comfortably and stay hydrated. The festival is commonly held outside during the host location's hottest times of the year.
9. Something in the Water in Virginia Beach, Va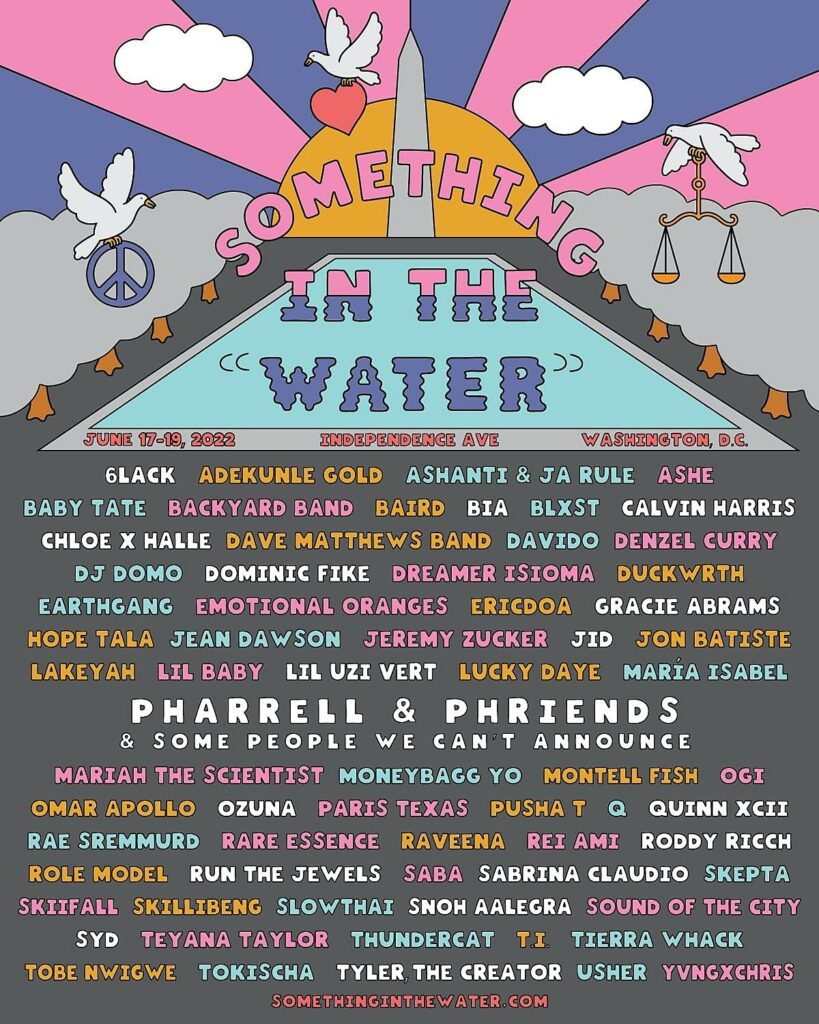 Aside from their detour to Washington, D.C. in 2022, the Pharell-driven Something in the Water event is a Juneteenth staple for Black music festivals. The esteemed producer brings together his favorite artists and some upcoming performers, to put on a sleek hip hop and R&B festival in his hometown Virginia Beach.
The star-studded global music festival has reunited rap duo The Clipse, musical icon Missy Elliott with Timbaland and Magoo, as well as a number of other reminiscent artists that Pharell is affiliated with.
This festival is a can't miss if you love Pharell's discography, and can fathom the surprises of who he will bring out to perform with him.
10. Strawberries and Creem in Cambridge, UK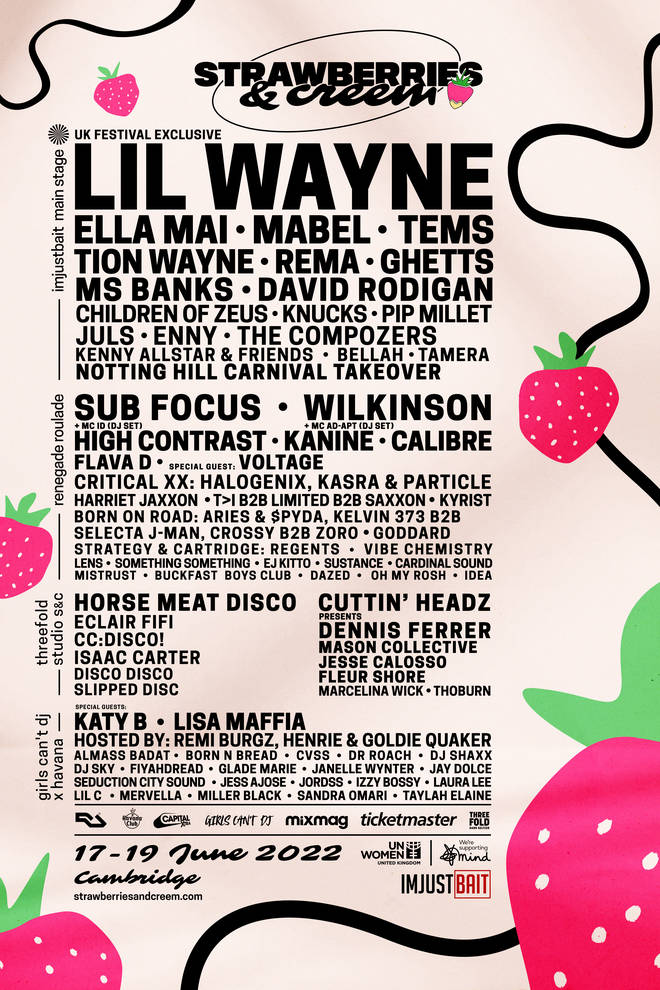 The United Kingdom's liveliest urban festival may be young, but it is mighty with the hottest Black artists from every continent. The Strawberries and Creem festival was born from a popular club night promoted by two friends now evolved in an urban music haven.
They pride themselves on keeping the lineup 50/50 in gender and bringing artists that don't typically frequent Europe like Lil Wayne, who was actually banned in the UK for the past 15 years. Add in a carnival float and smaller stages for more acoustic sounds, and this festival is really setting the tone for a bright future in the kingdom.
Layovers can get pretty long. This is definitely a great festival to check out if you're in Europe for the summer or if London Bridge is on your bucket list.
11. Broccoli City Festival in Washington, DC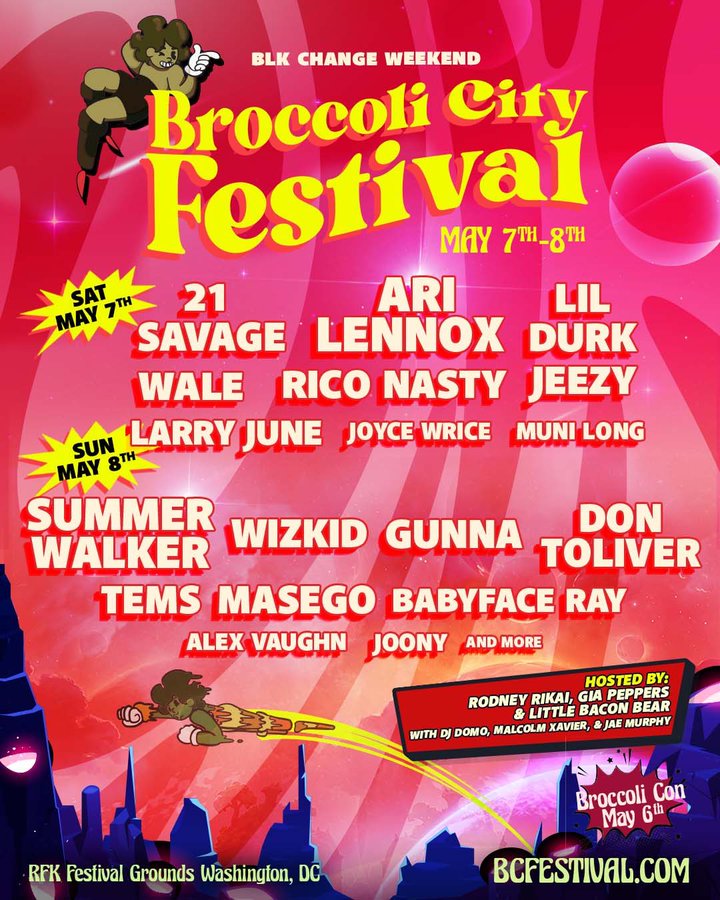 The Broccoli City Festival in the DMV is a Springtime hit every year. One of the only festivals to get Childish Gambino to do his full tour set at the FedEx stadium that one year, this musical experience is surrounded by Black-owned food and opportunities for social impact in the community.
In 2023, the festival is heading towards the summer months, but that won't stop guests from enjoying the renowned VIP experience and mobilization of Black people through music across 3 different stages.
Tip: Try to get involved with their community service if you're in the area. It's a feel good addition to the fun you'll have during the festival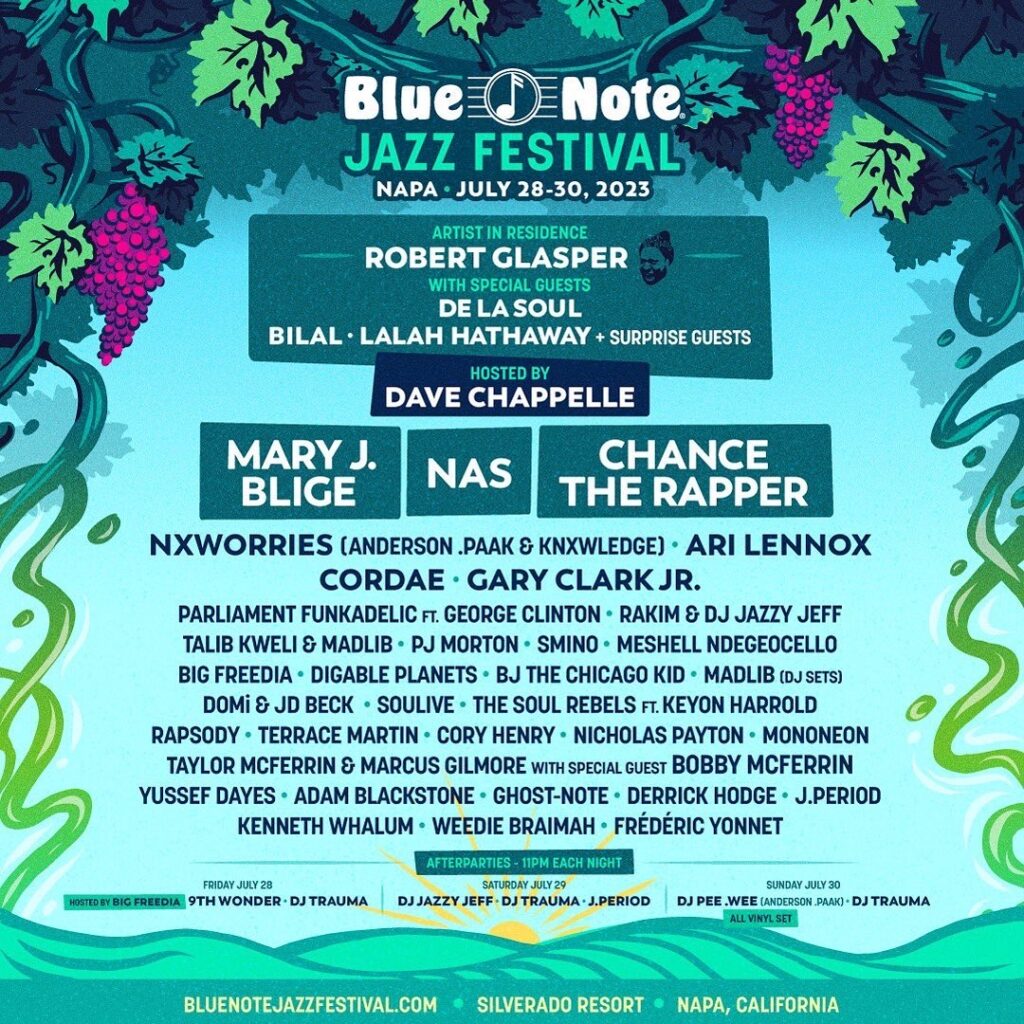 12. Blue Note Jazz Festival Napa Valley, CA
Get ready to experience the vibrant energy of jazz at its core! The 2023 Blue Note Jazz Festival is coming in hot with an unforgettable lineup featuring some of music and culture's biggest names. To pay homage to 50 years of hip-hop influenced by jazz, you can expect a truly unique event where guests will be able tap into the authenticity of both genres. Don't miss out on this one – it's sure to be an amazing night hosted by Dave Chappelle!
13. Lovers and Friends Festival in Las Vegas, NV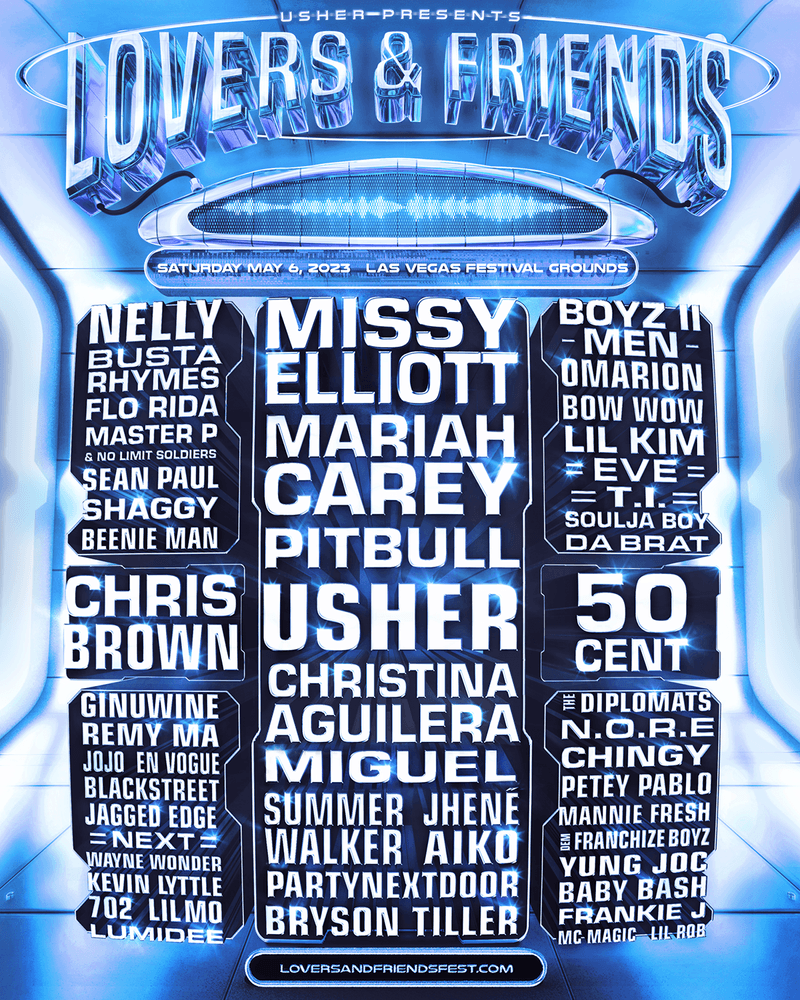 Last, but not least, a highly celebrated event for Black people to assemble and truly live nostalgically. The Lovers and Friends Festival features a two-day program of artists you couldn't imagine would be all on one stage, let alone one room.
Last year, this new Black music festival debuted with Usher as the headliner (considering he has a residency in Las Vegas), hip hop groups that haven't been together for some time now, and fresh acts to split up the decades of sounds.
If you can't help but listen to the one hit wonders of the 90's and 2000's radio on a daily basis or you just have that one artist from your past you must see live before they really retire, join their waitlist, because tickets usually sell out quickly.
Find your next Black music festival on Eventnoire
The music festivals named above, Essence Festival, Afropunk, Lovers and Friends, all aim to bring people together for the sake of Black culture. When we gather, there is an electricity throughout the crowd and in the air that makes for an experience unlike any other.
If you're looking for even more Black music festivals and experiences you can attend, you can find them on Eventnoire. Eventnoire is the premier platform where Black culture and events intersect — connecting attendees and event organizers to the Black community.

Create, Discover & Experience Events For The Culture At Eventnoire.
Follow us On Instagram @eventnoirehq, Follow us On Twitter @Eventnoire, Like us on Facebook