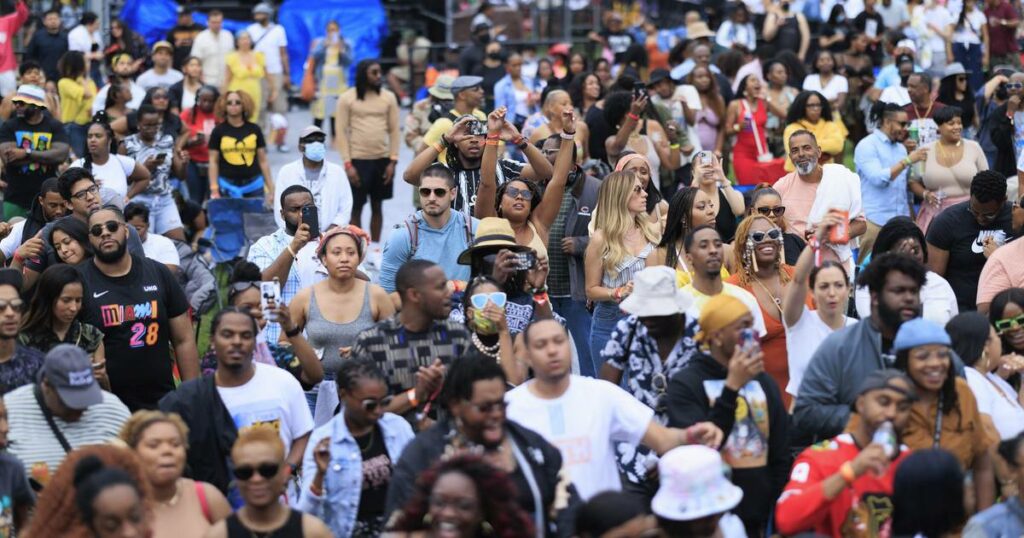 Summer is finally here!
Now's the time to get back "outside" with your crew for new experiences. Festivals are always a fun reason to get out. They provide unique musical, shopping & dining experiences with local vendors and more!
Here is a lineup of Summer 2023 events you don't want to miss!

1. Hyde Park Summer Fest: June 17th – June 18th. This festival comes
with quite a few performances from our favorite artists, including a reunion of the Clipse. Others set to hit the stage are Lil Kim, 2 Chainz, Robert Glasper, and a Chicago Hip Hop 50 set featuring Shawnna, Vic Mensa, Crucial Conflict & Twista, to name a few.
2. Rhythm & Beats Block Party: Date – June 24th. This event will connect three cultures for an evening of amazing sound; R&B, Amapiano Music & AfroBeats! Not only will you dance, but you will also have an amazing menu and cocktails in the mix. Hosted by Chicago Radio Personality Tone Kapone, several of Chicago's hottest DJs are also on deck to bring you the event's soundtrack.
3. 7th Annual Juneteenth Black Bar Crawl: June 17th.
Presented by Moor's Beer and Maker's Mark, prepare to spend a day supporting Black-owned bars and lounges around Chicago! Purchase your tickets as soon as possible to get the route lineup! There will also be an After Party at Renaissance!
4. Blacknificent Yacht Party: June 18th. Set sail on the Anita Dee with an afternoon of great music, great vibes, and the Chicago Skyline as the backdrop! This is one of Chicago's most anticipated events and one of the events that you don't want to miss. Get your tickets now!
5. The Emancipation Ball: June 16th. Chicago's Premier Juneteenth Event, presented by Moor's Brewing Company, celebrates culture and community with live band entertainment, culinary offerings, and an open bar. VIP tickets are also available for an elevated dining experience, complimentary wine bottles, and a cigar rolling station!
6. Chicago Greek Weekend: June 9th – June 11th. Join the National Pan-Hellenic Council for a weekend of events with the "Divine 9", ranging from the Black & White Party, a Community Outreach service project, and the Annual Family Picnic, including food vendors. Tickets are still available online, and if you are looking to be a vendor during the Family Picnic, those tickets are available as well!
7. African/Caribbean International Festival Of Life: July 1st – 4th. The "African Fest" is back in Chicago, celebrating its 30th and 7th Anniversaries of the Jerk, Seafood, and Vegan Fest! Held in Chicago's Washington Park, you can expect a weekend of shopping, fabulous food vendors, and vibe to AfroBeats, R&B, Soca, and more! Don't miss your beat!
8. Essence Festival: June 29th – July 3rd. This annual music festival of culture is back in NOLA for its 28th year. Enjoy the best of Hip Hop and R&B with performances by Megan Thee Stallion, Big Boi, Remy Ma, and Monica. The festival features various activations, and we are thrilled to participate in one of them. Our CEO, Jeffrey Osuj, will drop gems on stage with other gentlemen as part of the #InHisZone: Men's Experience. Come stop by to connect and enjoy this one-of-a-kind event!
9. BET Awards: June 25th. The BET Awards is back in Los Angeles, bringing you the #1 cable awards show for the past two years, with a celebration of the 50th Anniversary of Hip Hop. This year's show will be monumental as music's pioneers receive tributes and new industry artists are highlighted!
10. American Black Film Festival: June 14th – June 18th. The American Black Film Festival celebrates artists who have created films and other content for all people of African descent. Miami will serve as ABFF's 2023 destination. Enjoy a week of panel discussions, exclusive parties, and the opportunity to hear from the 2023 Ambassador Lena Waithe!
11. Toronto Caribbean Carnival: Aug 3rd – Aug 7th. An extremely popular celebration of Caribbean culture, this annual event brings visitors in the thousands to Toronto, Ontario (Canada). Enjoy a weekend of dancing, theatrical performances, soca, calypso music, and the infamous display of backline costumes!
12. AfroPunk: Aug 26th & Aug 27th. Head to the East Coast for this celebration of music, the arts, film, and fashion, produced by Black artists, in full celebration of Black Expression! Great food, great parties, and an unforgettable vibe right in Brooklyn, NY!
13. Texas Greek Weekend: July 27th – 30th. Join the "Divine 9" in Houston, Texas, for a weekend filled with live music, great food, and step show competitions made up of some of the best step teams in the state!! TGW is an excellent opportunity for networking and reconnecting for three days of fun and nostalgia!
14. Atlanta Greek Weekend: June 7th – June 11th. Take part in this unity weekend with thousands of Greeks from the "Divine 9" for several days of fun, reconnecting, and networking!! Look forward to events such as the Block Party, Brunch Day party, Community Service Project, and Step Show!
15. Invest Fest: Aug 25th – Aug 27th. Be in the number to attend this first-of-its-kind event in Atlanta, GA, where you will hear from business moguls discussing current financial topics ranging from real estate cryptocurrency to estate planning, stocks, and much more! Plan time to shop at the vendor marketplace and take advantage of the Food Truck Village!
Discover more fun & exciting summer events right here at Eventnoire.com!

Follow us On Instagram @eventnoirehq, Follow us On Twitter @Eventnoire, Like us on Facebook
Create, Discover & Experience Events For The Culture At Eventnoire. com